Do you know the different types of Tongs? Not many people know this, but there are many different types of tongs available in the market, which are designed for specific purposes.
If you get a few different types of tongs, believe me, your life in the kitchen will become much easier. Having many tongs for various purposes has led me to amp up my cooking game and provide optimal results. Investing in tongs specialized for cooking specific dishes will be helpful if you want to do the same.
This guide will provide a rundown of each type of this simple yet multipurpose tool so that you know which is most suitable for you, depending on what you cook most often.
Different Types of Tongs
Suppose you are fond of making salads daily; if so, buying a specific tong for tossing salad will be worth the investment and help you make salads more efficiently. If you are confused about the various types of tongs available, perhaps the following list will help you decide which is best for you.
Though these are not as popular in the kitchen as they are in laboratories, they can still be a great addition to your kitchen if you have pots without handles. When they get hot, you can use crucible tongs to hold them. However, you can also use these for holding food items.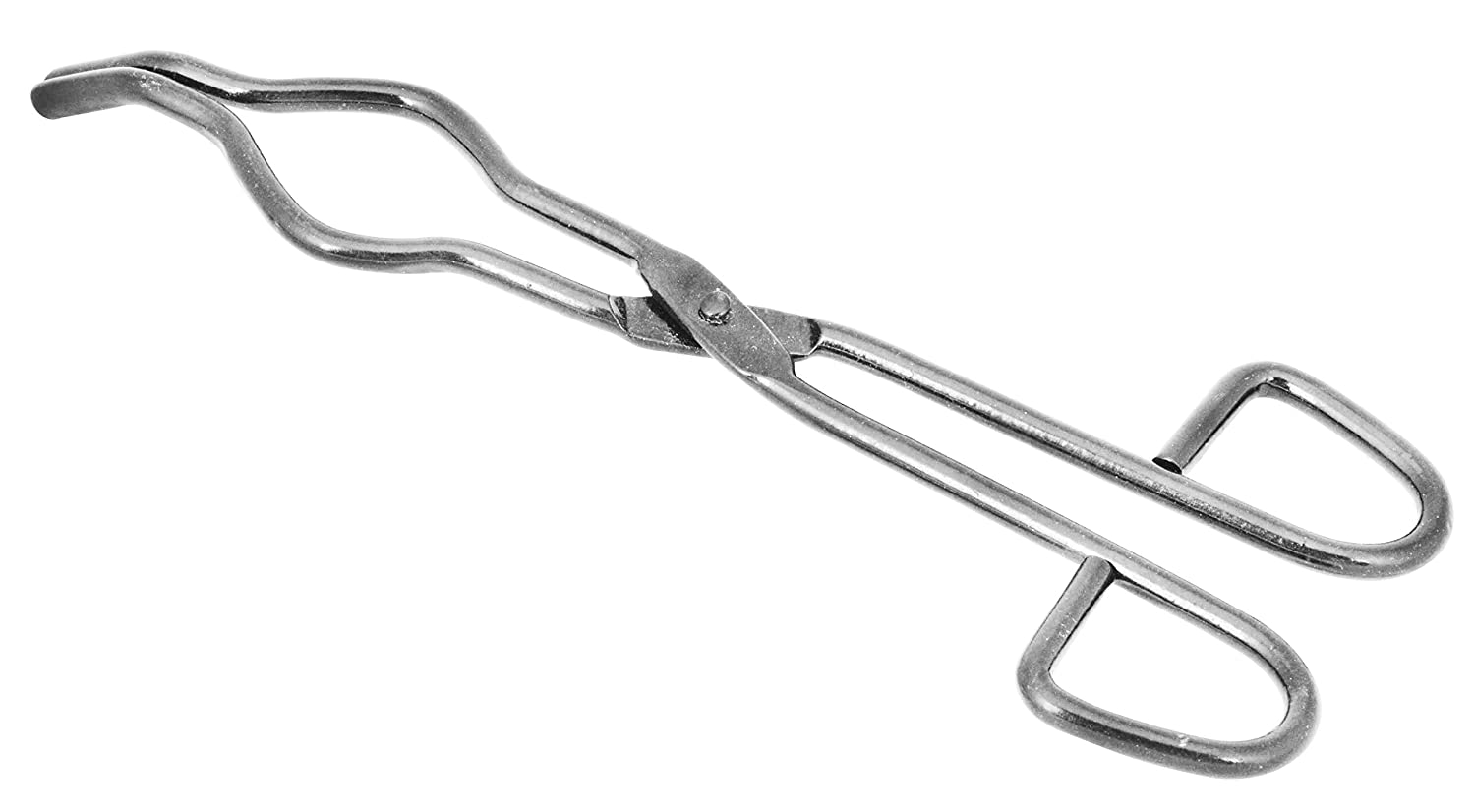 They are shaped like scissors, but instead of having two blades, they have two long pieces of metal shaped in a distinct way to allow for holding jars, glasses, and other small dishes.
---
The most popular and essential type of tongs you can find are kitchen tongs. These are great for handling burger patties, steaks, or pork chops. They provide a lot of stability when taking food items, which is why you can also use them for grilling vegetables and whatnot. Moreover, kitchen tongs come in various material types.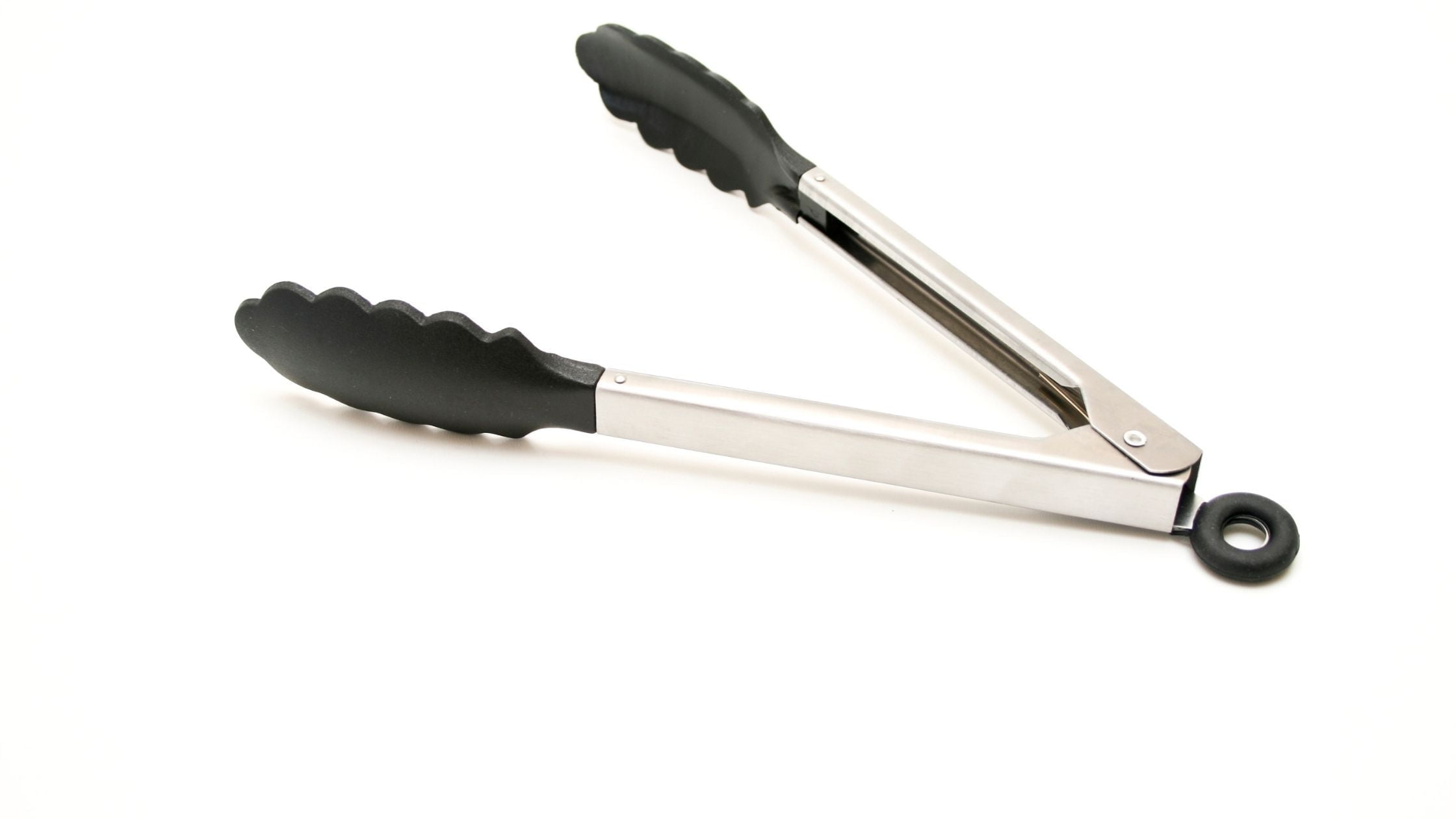 The most popular are made with stainless steel, but kitchen tongs with silicone tips are also excellent for handling high temperatures.
---
According to their website:
HINMAY Scissor Tongs are manufactured from premium 18/8(304) Austenitic Stainless Steel. Austenitic steels are non-magnetic stainless steels. Known for their formability and durability. Heat safe up to 1112°F / 600°C.
The old version of the scissor tongs handles are too small, not large enough to hold comfortably. We released a high-quality scissor tong which is completely different with competitors. A silicone-lined handle makes holding items with it a more pleasant experience.
The tong gripper has an imprint on metal to prevent food slippage, great for grilling in the kitchen or outdoor barbecue.
Works well for turning and lifting meat, fish, crab, chicken, turkey, burger, hotdog, corn, vegetable salad and taco etc. 10-Inch and 12-Inch length is fit almost for everything you need in daily use.
Each set comes equipped with 2 different sized tongs, 10-Inch and 12-Inch
When you purchase this specialty scissor wire tongs Tool.
Comes with a 100% CUSTOMER SATISFACTION SERVICE.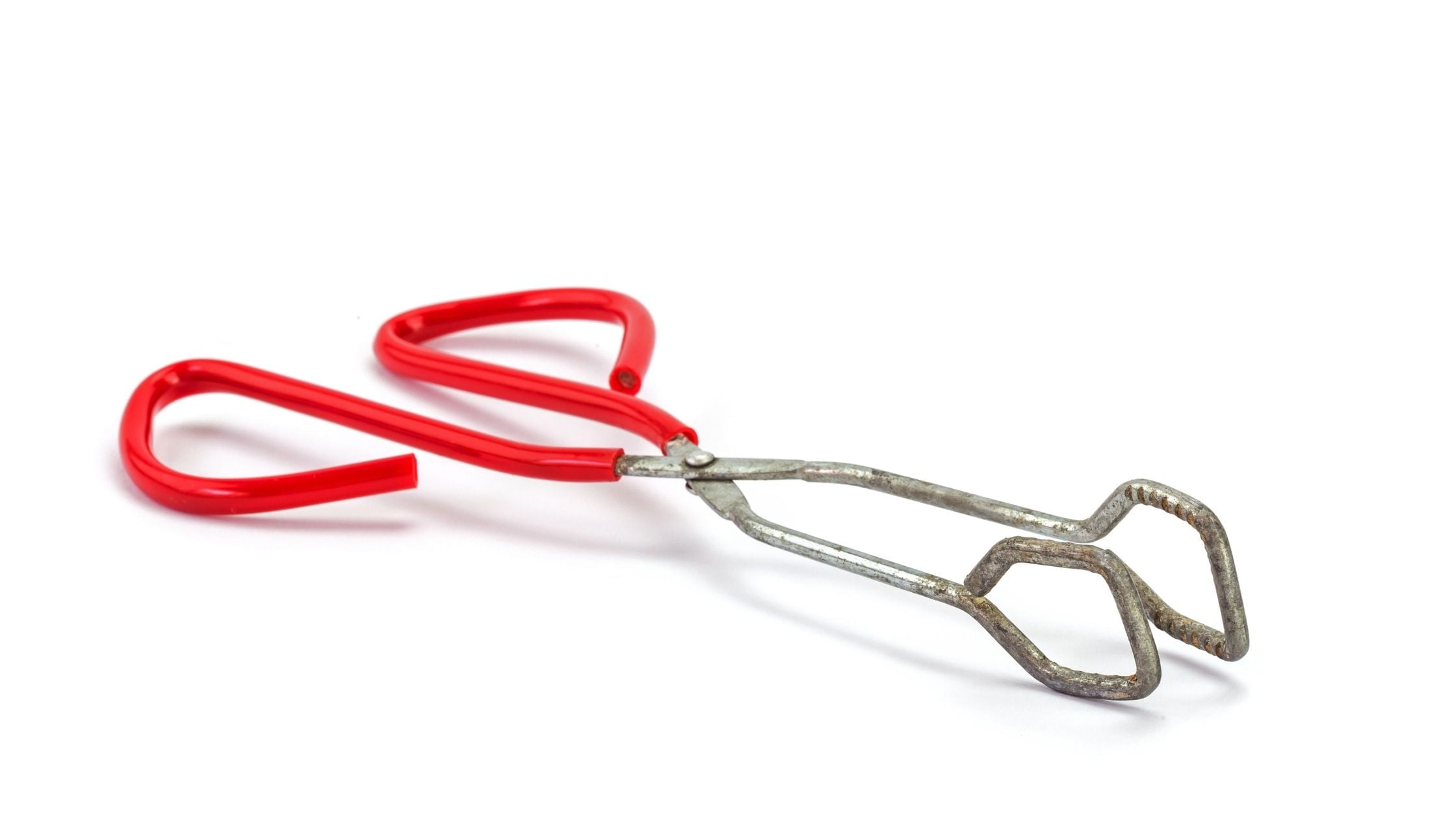 As the name suggests, these tongs are used to hold beakers, glasses, and bottle-shaped objects. They are particularly useful for handling such objects when they are too hot to touch. In addition, they have concave-shaped metal hands, which allows for a steady grip. All in all, the beaker tongs are not the most popular choice of kitchen tongs.
---
When it comes to salad tings, you can choose between those made in metal, plastic or this sweet wooden ones.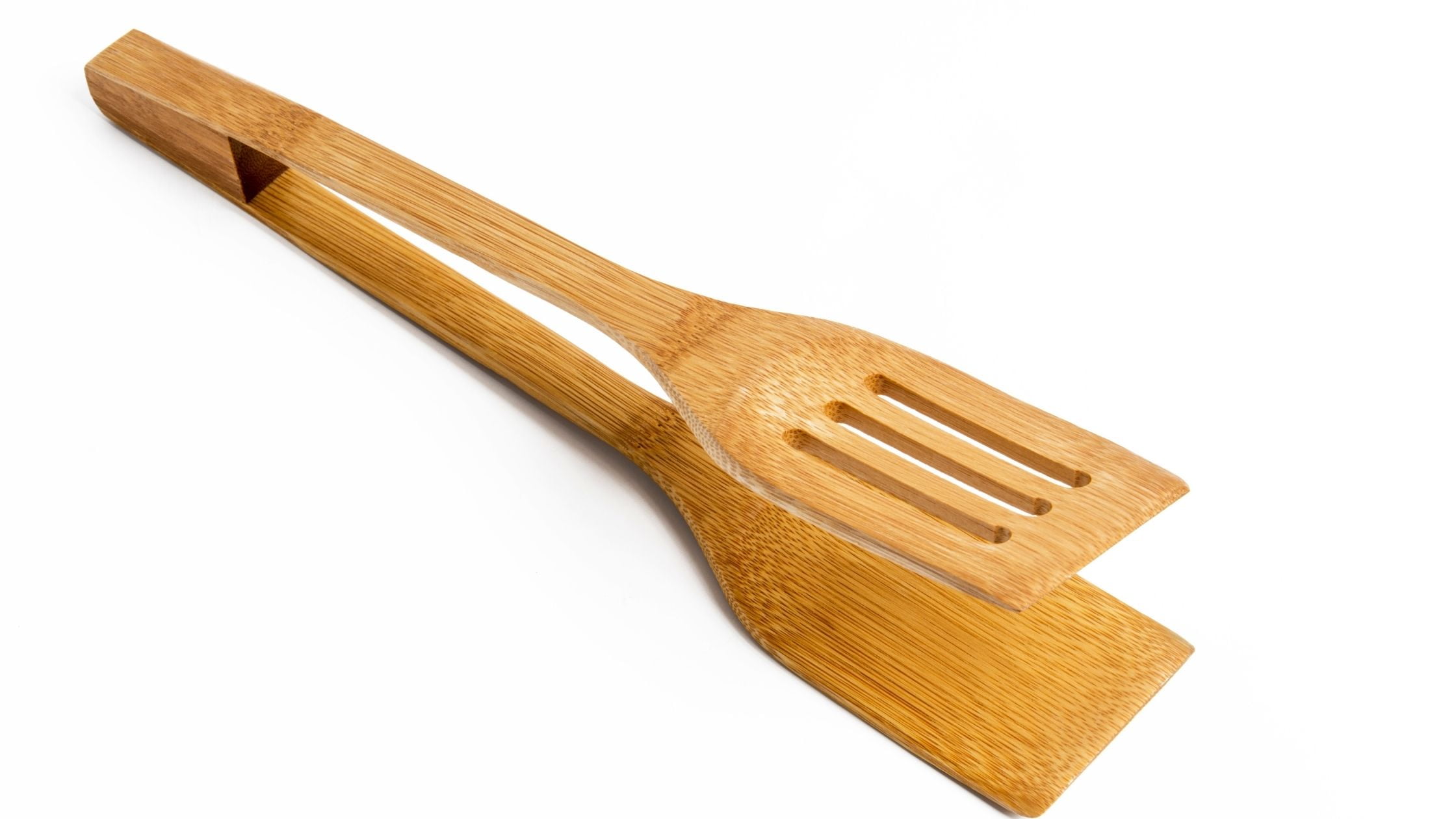 Perhaps one of the most popular tongs from this list is the salad tongs. Most people have these tongs in their house, especially those fond of making salads frequently. These tongs have a spoon on one side and a 'spork' on the other. This allows for easy handling, mixing, and transferring of salads. Since they are not used in cooking or high heat, you can find plastic and stainless steel versions of these tongs.
---
You have probably seen these tongs in fancy restaurants and hotels where they are indispensable additions. As the name suggests, ice tongs serve one purpose: they help transfer ice from the ice bucket to your glass. They are specifically designed for this and what they can only do. Moreover, ice tongs tend to be made of stainless steel and have a smaller size than other tongs.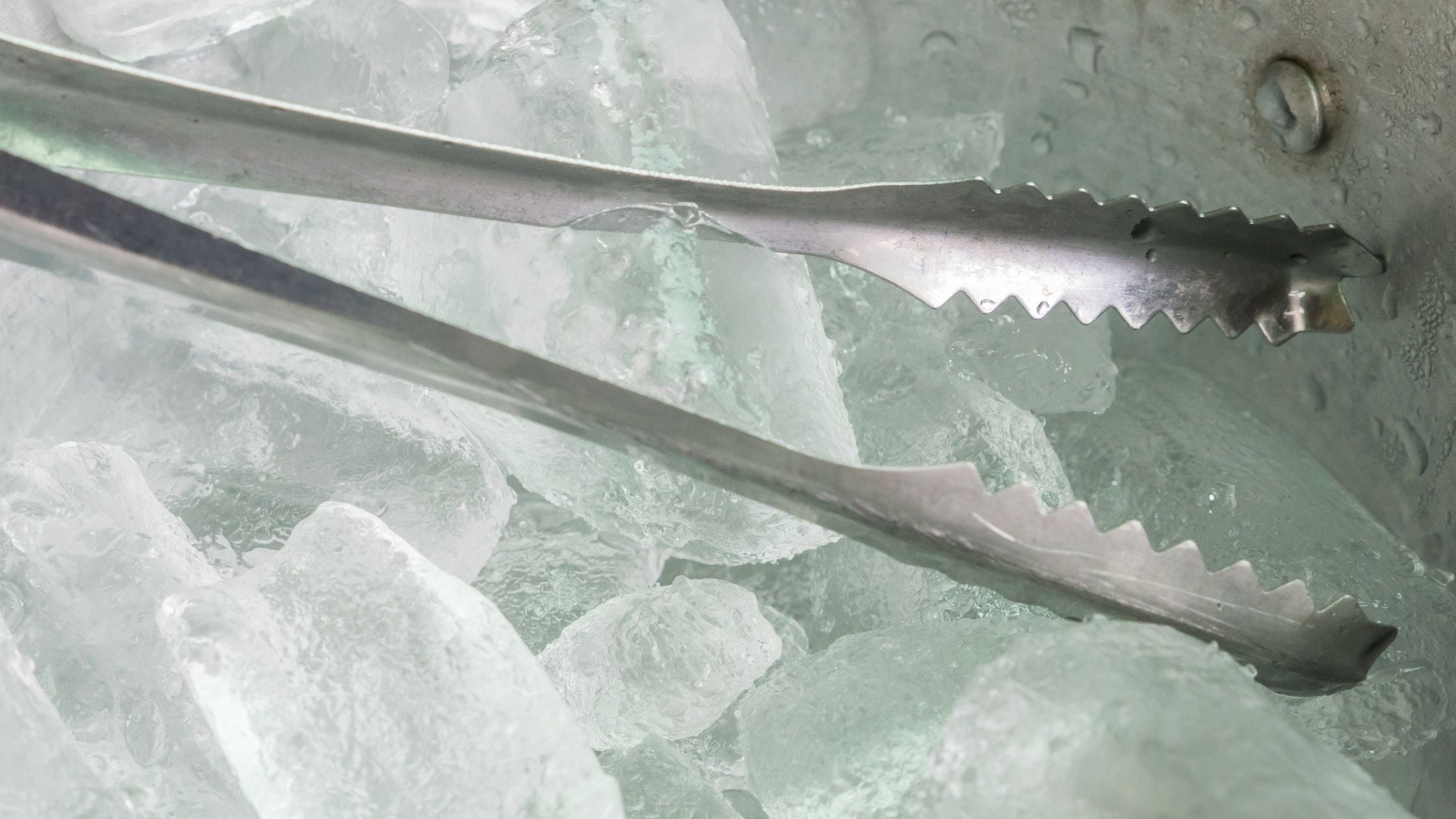 According to their website:
This ice tongs are made of 18/8 (304) stainless steel for unbeatable strength and premium construction, rust resistant for years of using and easy to handle.
Thy have an awesome grip, the saw teeth of edge for tightly clamping, you can easily grip up a slippery and wet ice cube firmly. Also, you can use them as sugar or food serving tongs.
Great for ice cubes, sugar cubes, lemon slices, jelly, cookies, marshmallows, shredded cheese, grated carrots, crescent rolls, hash browns, bacon, jam, soft cheese, olives or pickle slices, etc. Serving tea, coffee, breakfast, party, various activities
Simple appearance with no redundant annoying decoration provides no gap. It can be cleaned in a commercial dishwasher, easily maintained and stored.
Providing you with the friendliest customer service is our number one goal. This is why we offer you a money back guarantee if our Ice Tong does not meet your expectations.
---
The OXO Good Grips Grilling Tools comes with a grilling tong and a turner set, consider Amazon Choice, are easy to hold, are sturdy, affordable and are easy to clean.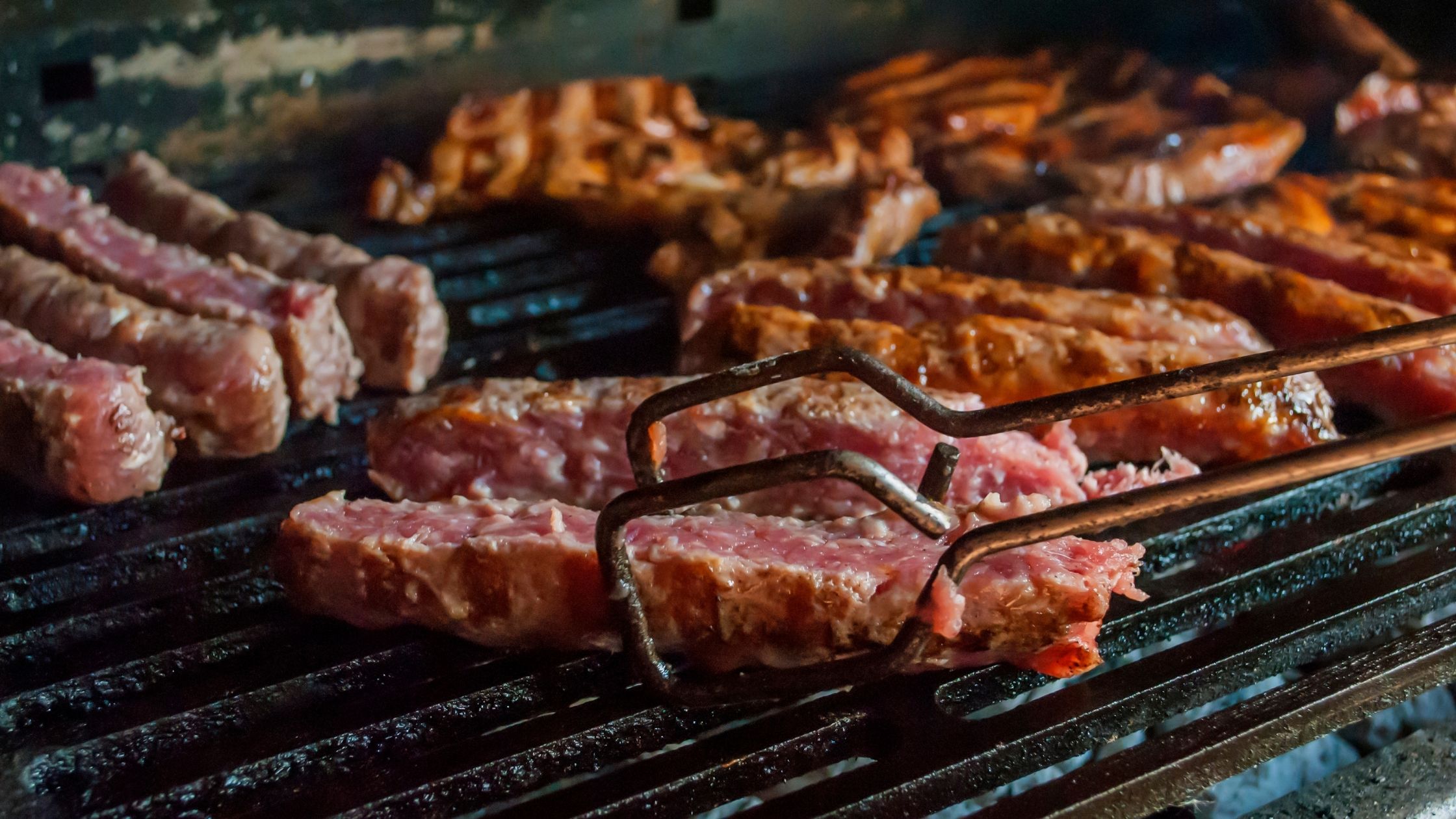 Are you looking for a reliable tong to help with grilling your meat and steaks? Then perhaps grill tongs are worth considering. That's not all, though; grilling tongs can also be used for frying. In addition, they tend to have mesh ends, which helps drain out grease or oil. Hence, they are an excellent addition to your kitchen utensils collection because they effectively serve various purposes.
---
These tongs features:
Stainless Steel Tongs for cooking, grilling, bbq, buffet serving, etc.
17 Inch Extra Long Tongs – Protect your hands from the heat.
Lock Ring on the top for closing the tongs and easy storage.
Non-Slip Silicone Grips and Heat Resistant up to 480F.
Easy to clean and dishwasher safe.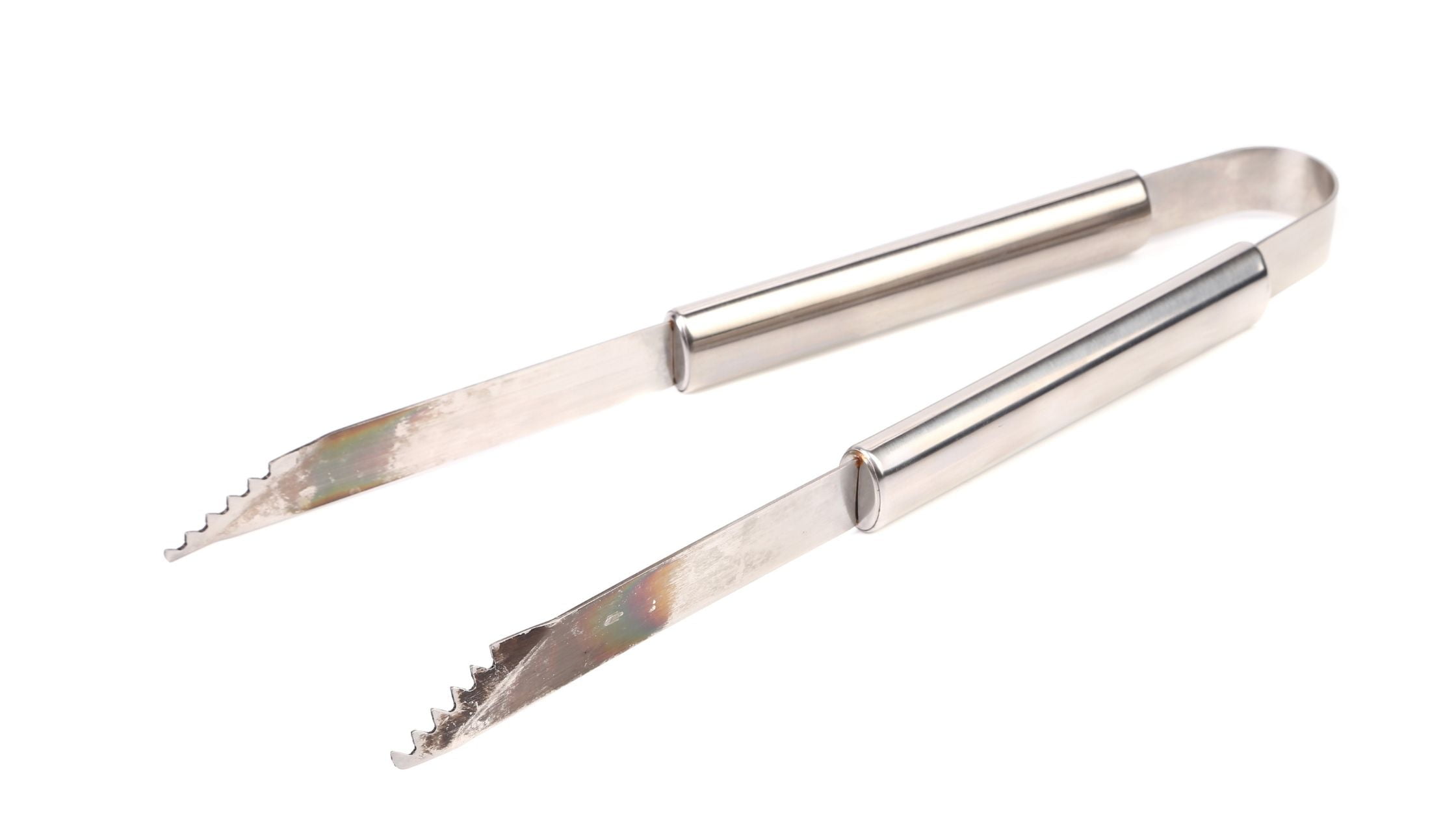 If you hold many BBQs at home, you should get BBQ tongs to make your life easier. These are 18 inches tools that tend to have holes or mesh on their ends to help drain out any excess oil or grease. More often than not, grill and BBQ tongs overlap and are used for the same purpose. The only difference you can find between them is that BBQ tongs tend longer to provide more distance between you and the flames.
---
Most tongs now come with silicone bodies or tips with stainless steel bodies. This is because silicone is an excellent material since it does not absorb heat and can be used with temperatures as high as 600F. They are also best for using on non-stick since they will not leave scratches.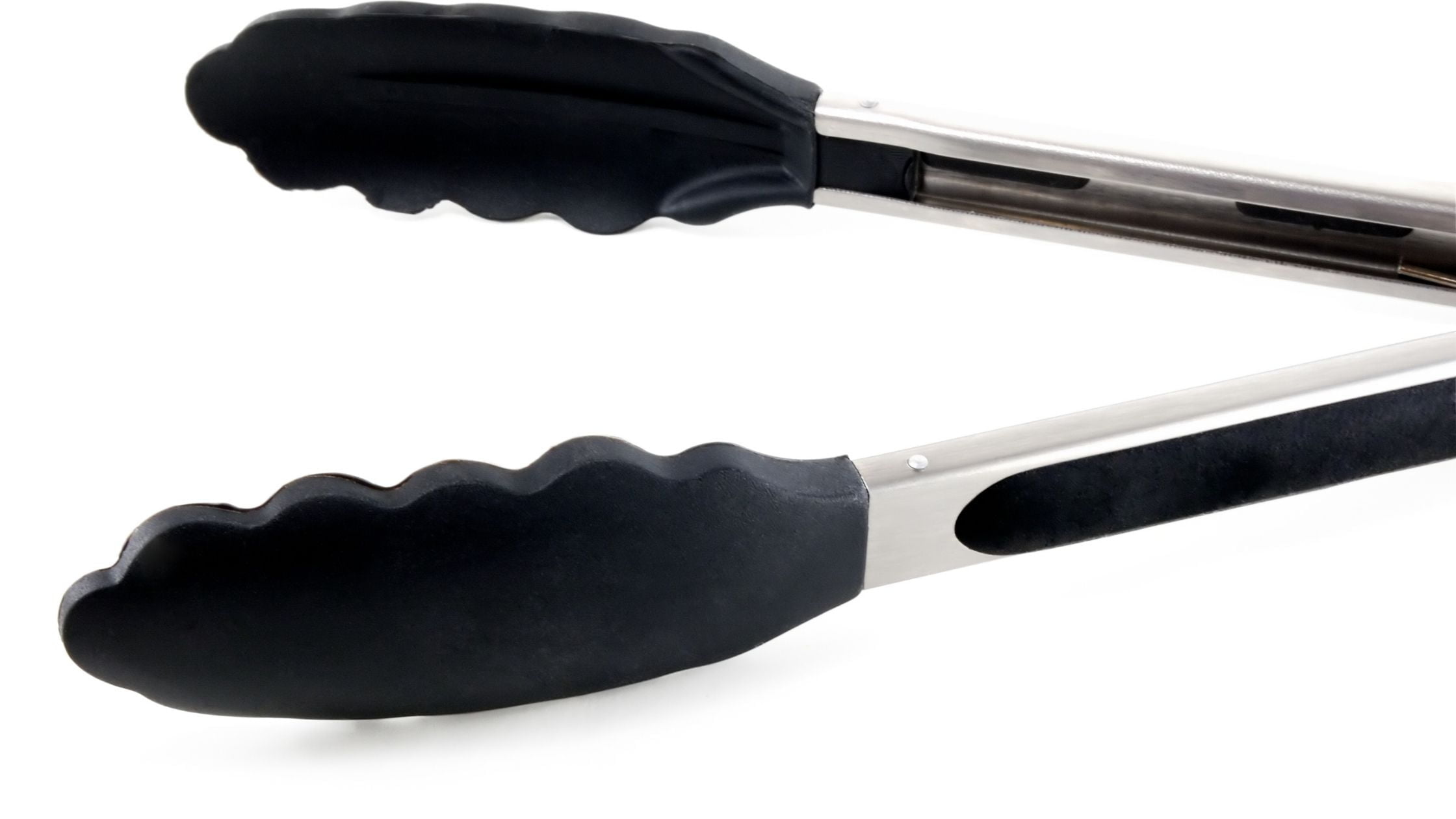 The Gorilla Grip silicone tongs feature:
A Strong and Precise Grab: featuring silicone scalloped edges, these tongs can grab nearly anything; from small ingredients like cherries, to large pieces of meats, veggies and more, the tongs are incredibly durable and strong enough for a variety of ingredients
Scratch Resistant Silicone Head: featuring a silicone head, the tongs are gentle on your nonstick cookware so you can worry less about scratching and wear and tear; silicone is heat resistant up to 484 degrees Fahrenheit, making it a great option for nearly any cooking task
Slip Resistant Handle: the tongs feature a slip resistant, silicone grip that helps you get the best grasp on your food; they also include an ergonomic thumb rest to help alleviate pressure on fingers and thumbs for additional comfort
Sturdy Stainless Steel: the tongs are constructed from durable stainless steel; easily grab even heavy items like burgers and meat; perfect for use on pans, stovetops, ovens, and grills; rust resistant and designed for long lasting use; dishwasher safe
Easy Pull Lock: the tongs easily become compact when you pull the easy pull lock up; they fit seamlessly in most drawers and cabinets for easy storage; also include a hook for easy hang
---
According to their website these serving tongs features:
Great for serving variety of foods. A Perfect Tool for parties, dinner, afternoon tea, buffet, catering, wedding celebrations or daily use for home, hotel and restaurant.
Made of top Quality 1mm corrosion resistant Stainless Steel for unbeatable strength and premium construction.
Remaining lightweight and easy to handle.
Non-stick materials. Durable and safety, smooth edge will no scratch your hand.
Premium thickened stainless steel, mirror polished and both sides net holes design for effective grasping.
Dishwasher Safe – Please clean the stainless steel tongs after using and store them in dry.
6 packed with a most favorable price. We offers a 100% Satisfaction Guarantee or your money back, add to cart now and risk nothing!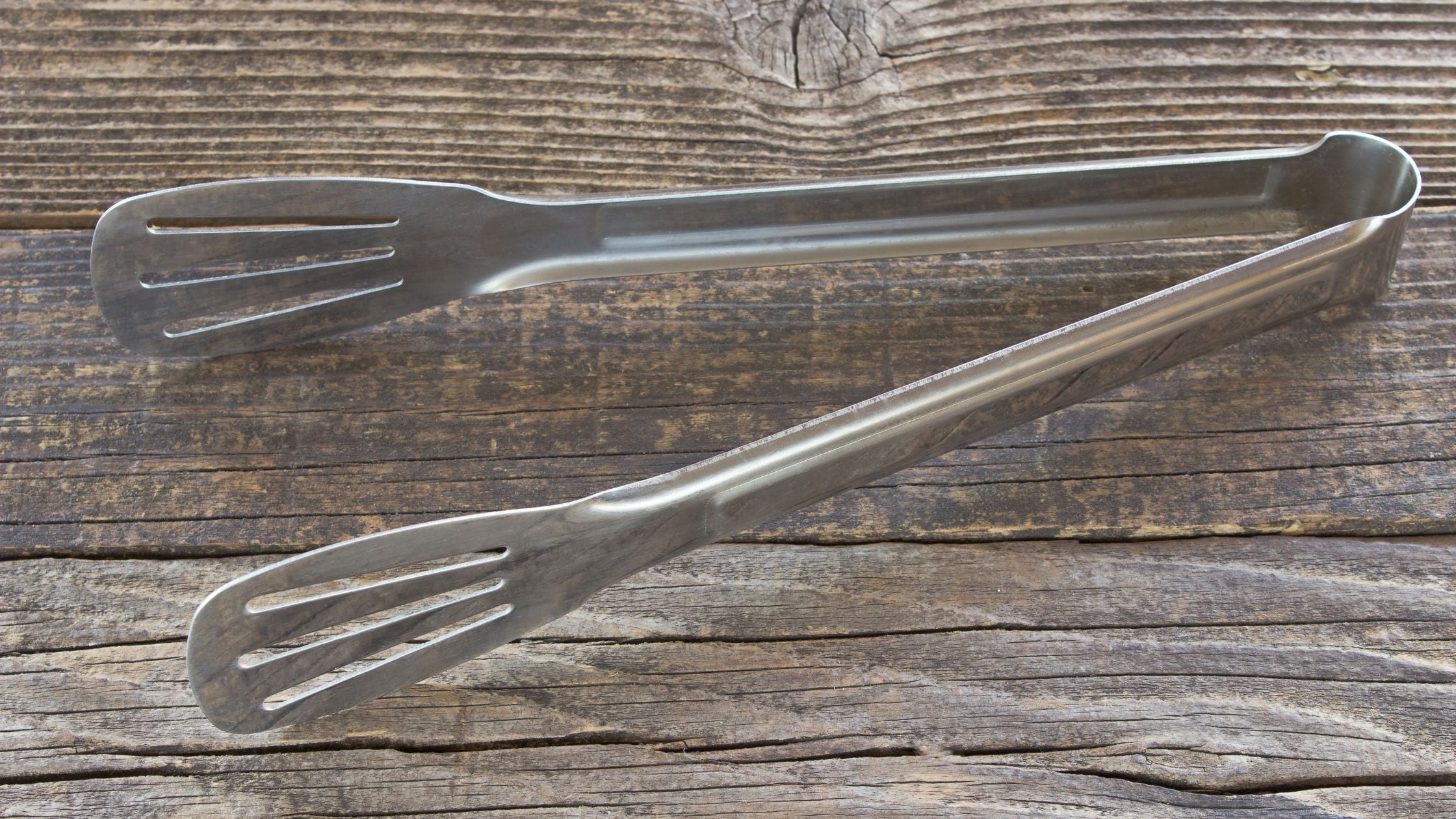 Though used in restaurants most frequently, you can still use these tongs at home if you frequently serve appetizers to your guests. They typically have an aesthetic appearance, such as with a chrome finish, and are used for transferring food from dishes to plates. They are also often smaller than the average kind of tongs.
---
You might have already guessed what purposes these tongs serve; they have a two-in-one design that allows them to act as both spatula and tongs. You can use them for holding and flipping meat and vegetables. In addition, they have a flat surface, allowing them to serve various purposes.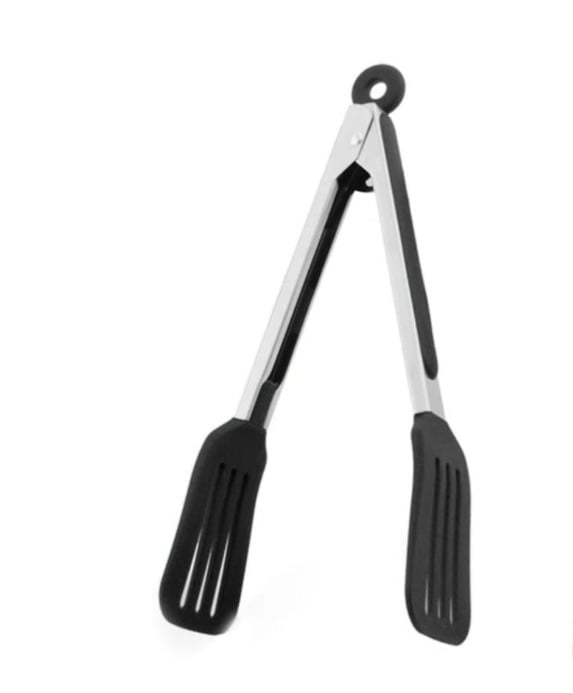 As mentioned earlier, tongs come in various materials depending on your nature of usage. Metal tongs are best used for salads and low-heat cooking since they heat up much quicker and might burn your hands. They have the traditional tong design.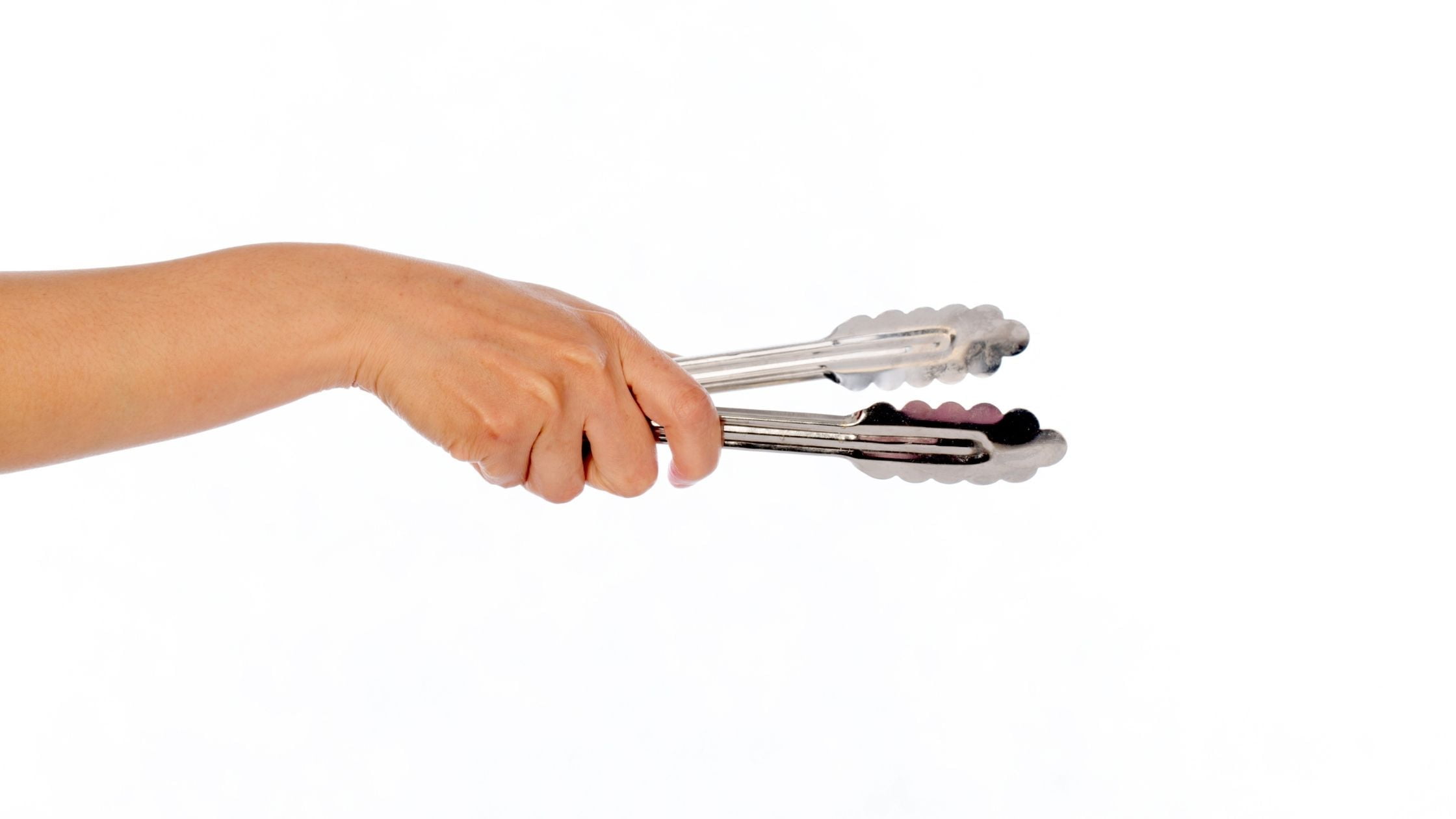 ---
These cute bamboo wooden tongs feature:
Bamboo is durable, long-lasting, moisture-resistant, sturdy and lightweight.
Safe for all surfaces: nonstick, glass, enamel, stainless steel.
Comfortable in hand, grips securely without crushing food and keeps hands safe from heat.
Heat and stain resistant.
Naturally bamboo is a sustainable, renewable resource that naturally replenishes itself, making it an environmentally sound choice.
You might have seen these wooden or bamboo tongs at Japanese restaurants or spas. Over there, they are normally used for handing out hot towels. These tongs tend to be quite pretty and can also be recycled. Wooden tongs work great for serving appetizers and look best when you match them with a wooden serving bowl.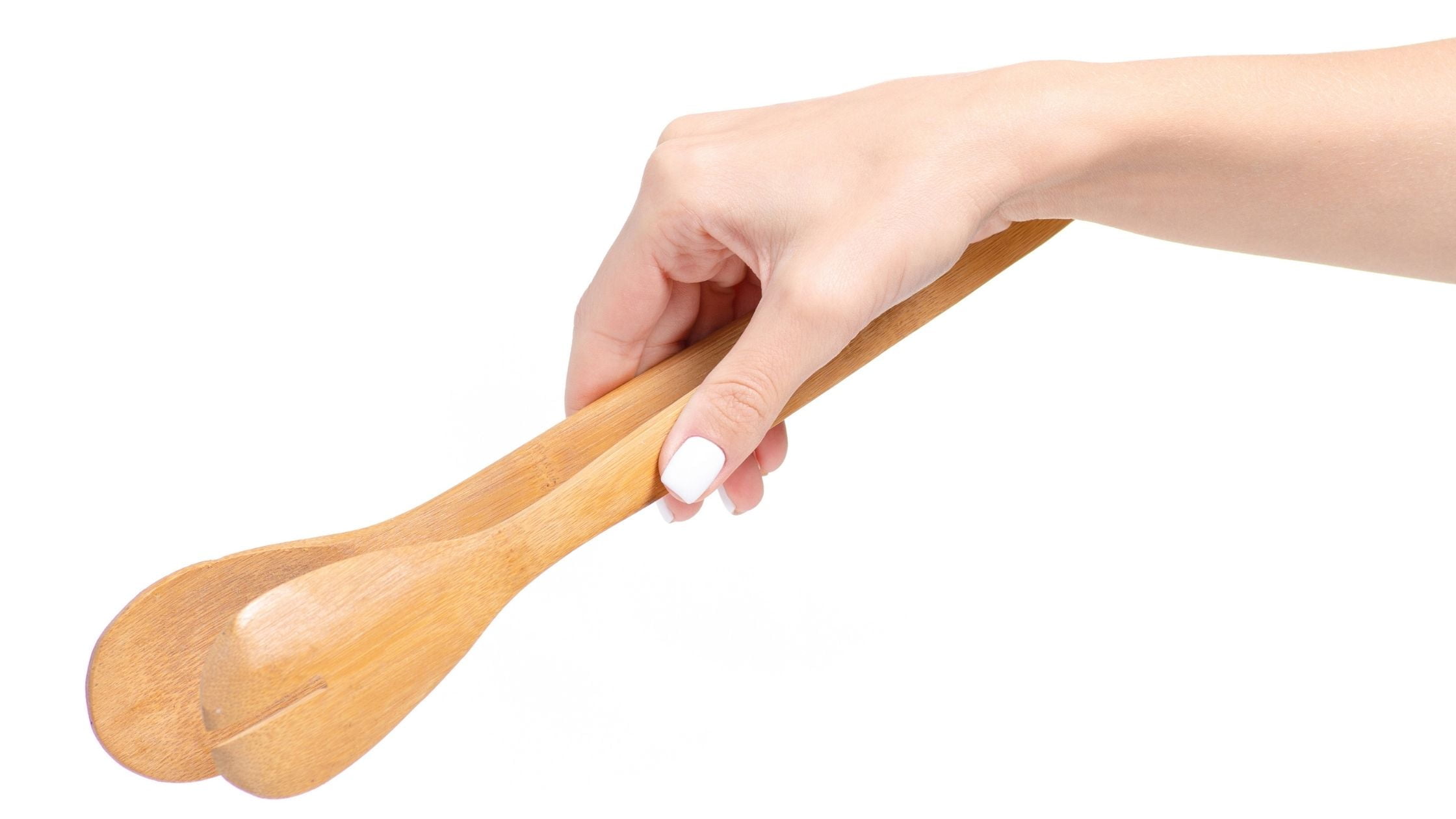 ---
The heavy duty Hotec kitchen tongs built with stainless steel, sturdy, heat resistance, anti-rust, anti-corrosion, light weight, easy to handle, like new forever. This tongs for cooking comes with a set of 2, standard 9″ serving tongs and large sized 12″ BBQ grill tongs.
This kitchen tongs set has locking mechanism, pull the ring for lock and push for unlock, super easy operation. Hang them with the hanging loop after use or put in the drawer by pulling the ring to lock it, space saving.
The handle is cushioned with silicon, good for thumb rest and ensures good grip and control. The metal tong head is super heat resistant. Easy to rinse, dishwasher safe.
New design pattern for the handle, better protects your hands from cutting by the edge when you grip the handle. Easy to control the handle and to eliminate wobbling & any risk of burning your hands
Basic kitchen utensil, perfect for indoor or outdoor use, great for daily kitchen tasks, grilling corn, flipping burgers/fish, cutting roast meat, or used as BBQ turner or salad server and much more.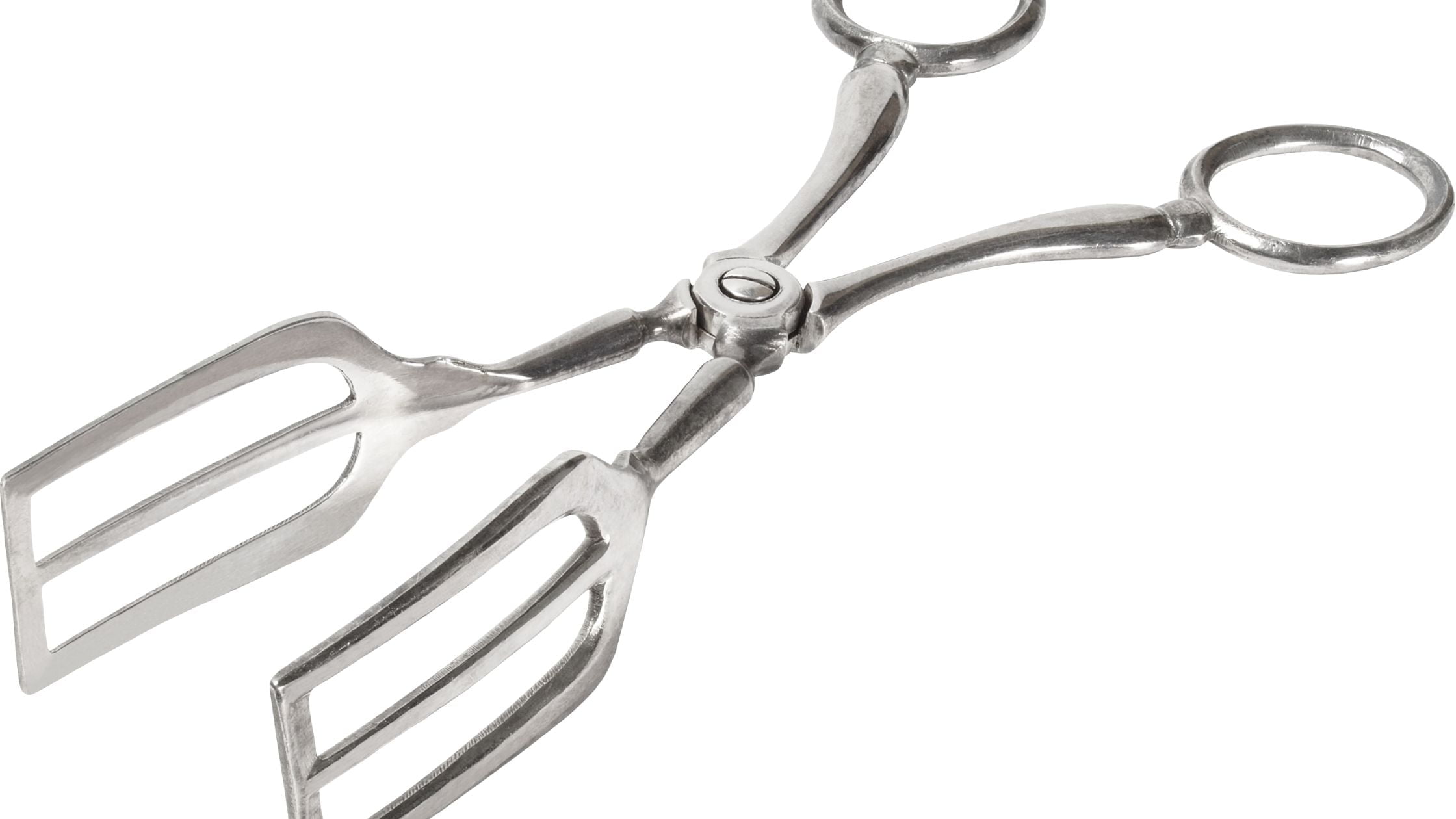 The most common material used in making tongs has been and continues to be stainless steel. These tongs are durable and will likely last you for life. They give you a steady grip when handling food. However, they cannot be used on high heat or any heated surfaces for long since they easily absorb heat. Moreover, the stainless steel tongs may also scratch non-stick pans and pots, so the two are not recommended to be used together.
---
Stylish, modern and multi-purpose; according to their website:
Multipurpose kitchen tool for your hot toast, the kids' muffins or pancakes and the bacon slices for your breakfast or dinner
Generously sized 8″ perfect for picking & serving appetizers, picking up cheese, fruits or vegetables from a platter, grabbing toast from the toaster, a necessary addition to your kitchen utensils.
We make use of our bamboo toaster tongs easier , easy grip due to their ergonomic design, they facilitate control in use. They are reusable, eco-friendly and made from nature bamboo, for increased durability.
Upgrade your kitchen decoration with a stylish kitchen accessory! The natural bamboo manufacture and the minimalist design of these wooden kitchen tongs make them uniquely classy. They are a decorative grade kitchen tool that will look great in your kitchen.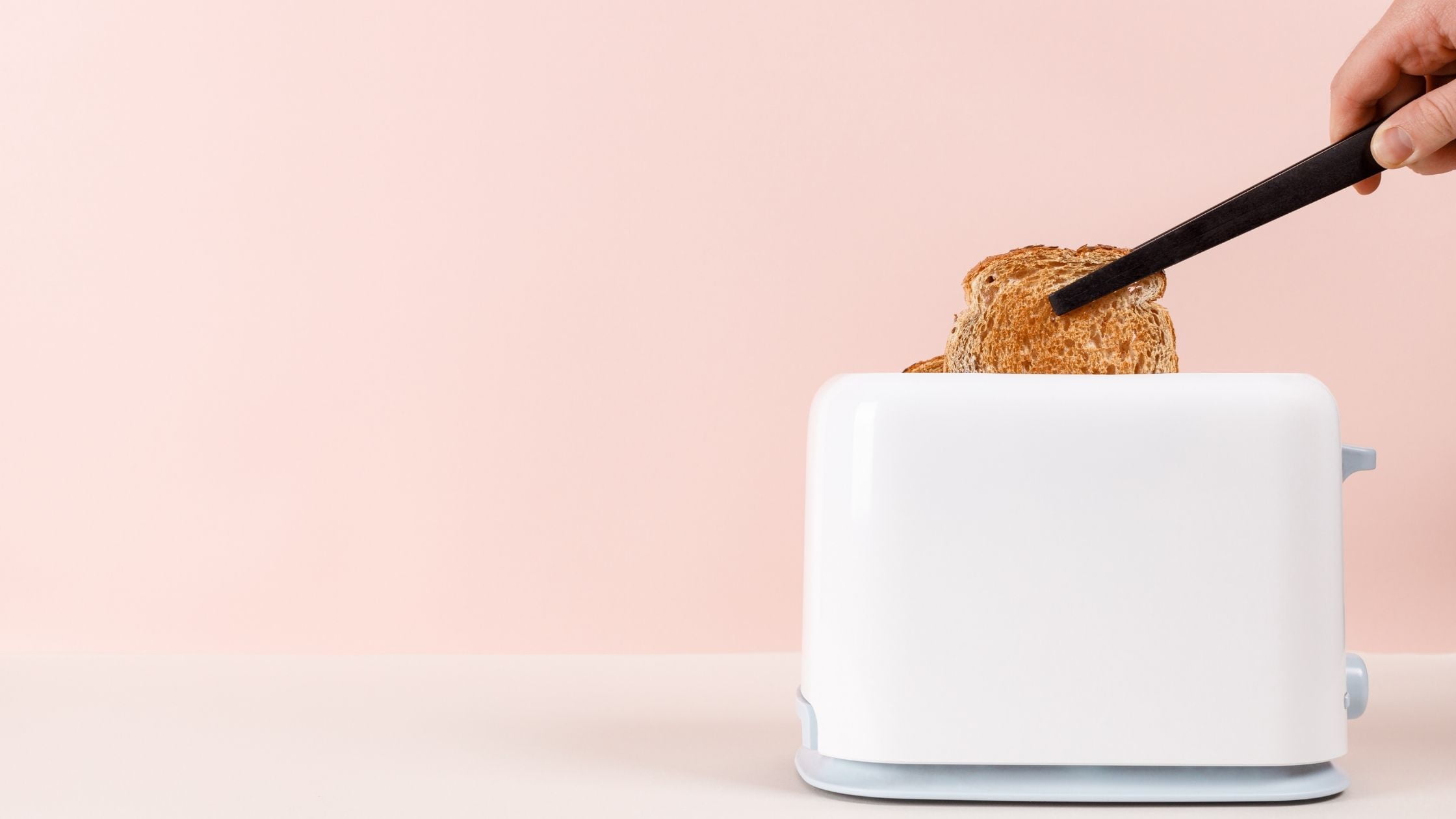 Tired of picking out your morning toast with your hands? Then consider using toaster tongs. These are specifically designed for removing toast, waffles, or anything from the toaster with these tongs. They are long, so you don't risk burning your hand. Moreover, they are also made of bamboo, so they don't conduct any electricity.
---
Affordable and available in a variety of colors on Amazon, these mini trio are durable, heat resistant, and dishwasher safe.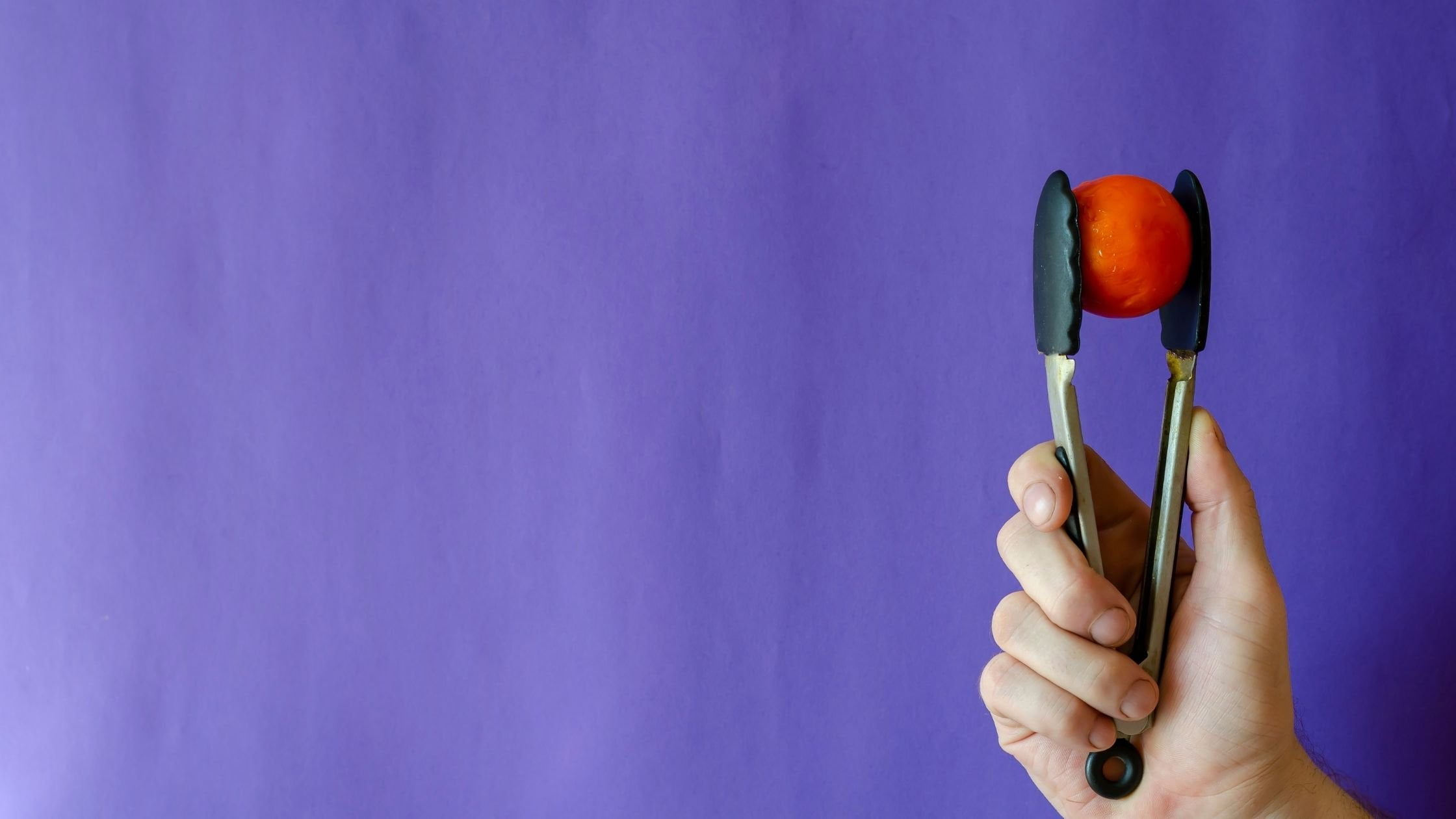 These slim and small tongs are most commonly used by professional chefs who like to add detailed touches to their dishes, for example, through decorating with herbs, caviar, and other microgreens. They have a tweezers-like shape, which allows for gripping onto small objects and food items. You can also use these tongs for transferring ice or retrieving an ingredient.
---
These elegant and modern plastic tongs features:
These tongs measures 9 Inches long and features an easy grip that is comfortable to use. The convenient design is perfect for all your Dinner Party, Catering or Buffet needs. They can be hand washed and used again or disposed of after single use
A practical choice that makes serving easier than ever. Whether you're hosting a small get together with friends and family or running your own catering business, our plastic serving tongs are always up for the task. Effortlessly serve breads, deli meats, pickles, salads, fruit platters, olives, candy, pastries, bagels and more
Rugged enough to withstand everyday use, these plastic tongs can safely be used for serving either hot or cold foods. These heavy-duty tongs are made from BPA-Free Food Safe plastic that is able to withstand extremely hot foods which makes serving your guests easy and effortless
Designed for commercial use these hard plastic serving tongs are great for large events including BBQs, Holidays, Baby Showers, Weddings, Banquets, Restaurants, and Buffets. The upscale black color matches any decor and looks fabulous at even the most elegant event
The JoyServe Pack of 12 Black Plastic Tongs in Bulk fit your budget just right. They offer you the best quality and price combo.
These reusable and disposable serving tongs are premium heavy-duty quality, durable, lightweight, washable, reusable, disposable, and always backed by our 100% Satisfaction Guarantee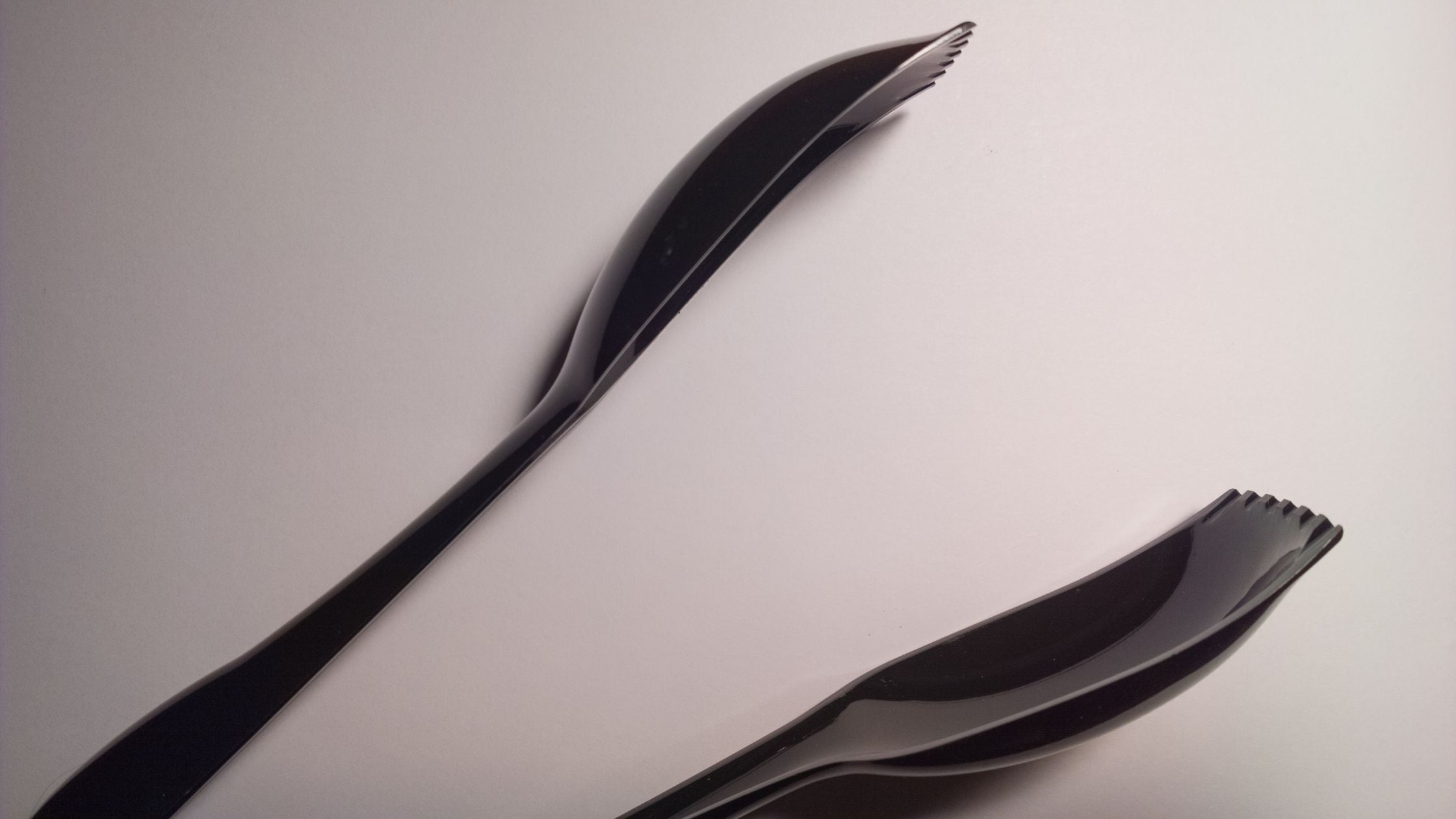 Most salad tongs tend to be plastic tongs since they are made of plastic. This is because you typically handle cold salad and don't use them on high heat. In addition, plastic tongs are durable and long-lasting, making them essential to the kitchen.
---
Constructed From Stainless Steel,Interior And Exterior Mirror polishing; No Distortion,No Fading,Durable Quality,While Remaining Lightweight And Easy To handle.
Not-slip Handle Features And Comfortable Thumb Rests Design,The Gently Raised Edges Provide The Wonderful Grip That Allows A Safe Handling Of Food Without The Risk Of Them Bending Or breaking.
Suitable for pick up steak,Salad,Bread,Slices of food,Pasta,Vegetable,Also can be used as bbq tongs,Party serving tongs,Wedding serving tongs,Kitchen cooking tongs.
Suitable for many different occasions and It can be use to pick up toast,Salad,Dessert and so on.
They are easy to clean, just under running water and dishwasher safe.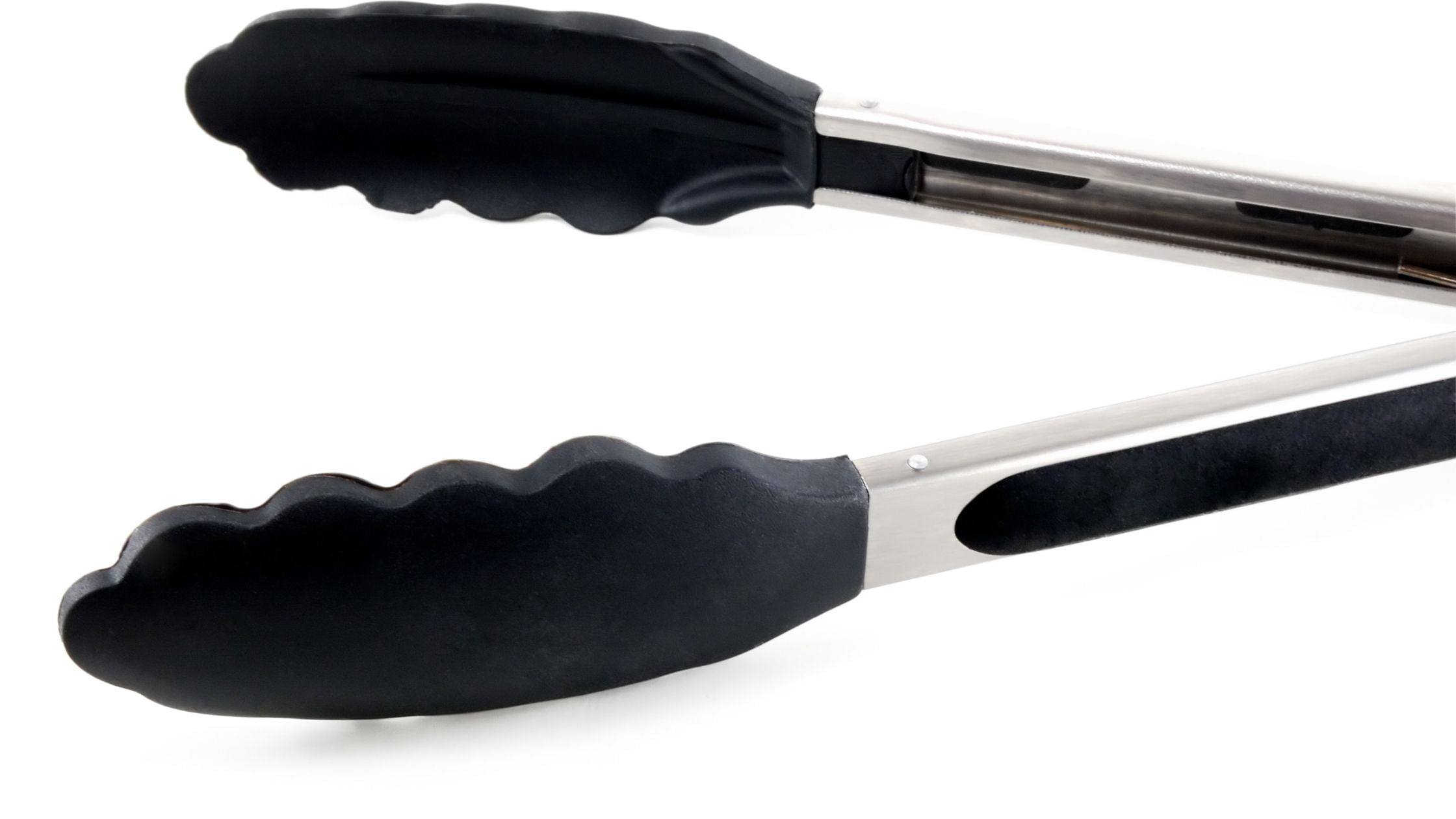 Skidding tongs are not exactly a kitchen utensil, but they help pick up hot food items, typically corn. Their pointed ends provide a firm grip, which is why they are great for picking up meat or any hot food items you cannot pick up with your hands.
---
These 17 inches extra long kitchen tongs features:
Stainless Steel Tongs for cooking, grilling, bbq, buffet serving, etc.
17 Inch Extra Long Tongs – Protect your hands from the heat.
Lock Ring on the top for closing the tongs and easy storage.
Non-Slip Silicone Grips and Heat Resistant up to 480F.
Easy to clean and dishwasher safe.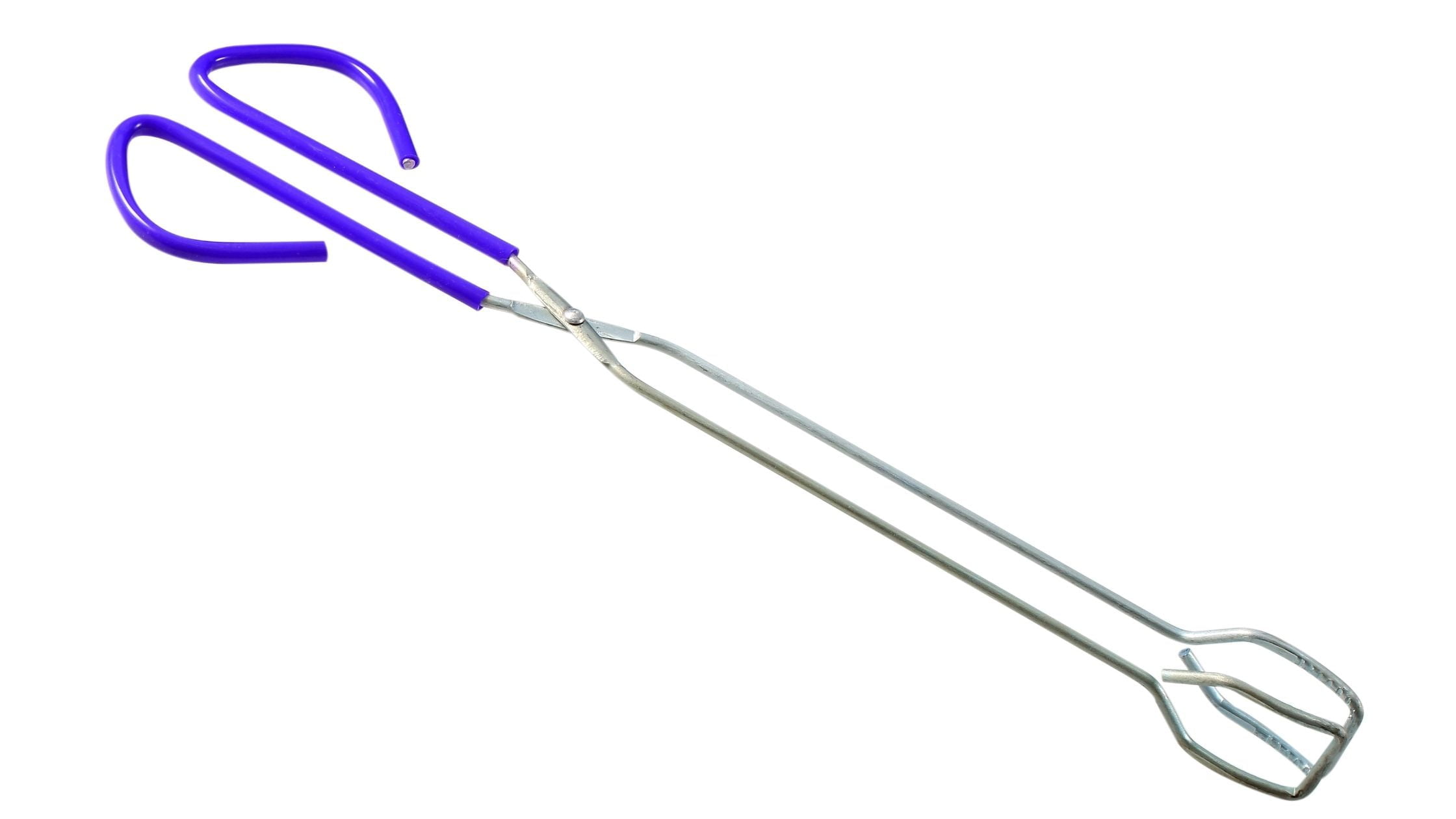 These tend to be extra longer than the typical tongs you use in the kitchen. However, they are great when grilling on high or open flames, handling coal on the fire, and more since they provide distance between you and the flame.
---
The New Star Foodservice Pom Tongs features:
Made from durable stainless steel with a satin finish.
Tong is easily manageable while keeping guests or servers hands safely away from foods.
Ideal for selecting fruit, vegetables, cheese cubes, deli meat cubes, candies, garnishes, salad toppings, and other cold foods.
Helps bartenders grab drink garnishes efficiently.
Restaurant-grade one-piece construction, this pom tong is less prone to snapping than two-piece alternatives.
No hard-to-clean springs or hinges. Fits well inside buffet or bar containers.
Commercially economical with the best quality. Hand wash with soapy water, or simply toss your tongs into your dishwasher.
Can also withstand the pressure of a commercial dishwasher.
The tong's slightly serrated tips offer a more secure hold when grabbing items.
Perfect for selecting cold foods. Available in 3 sizes.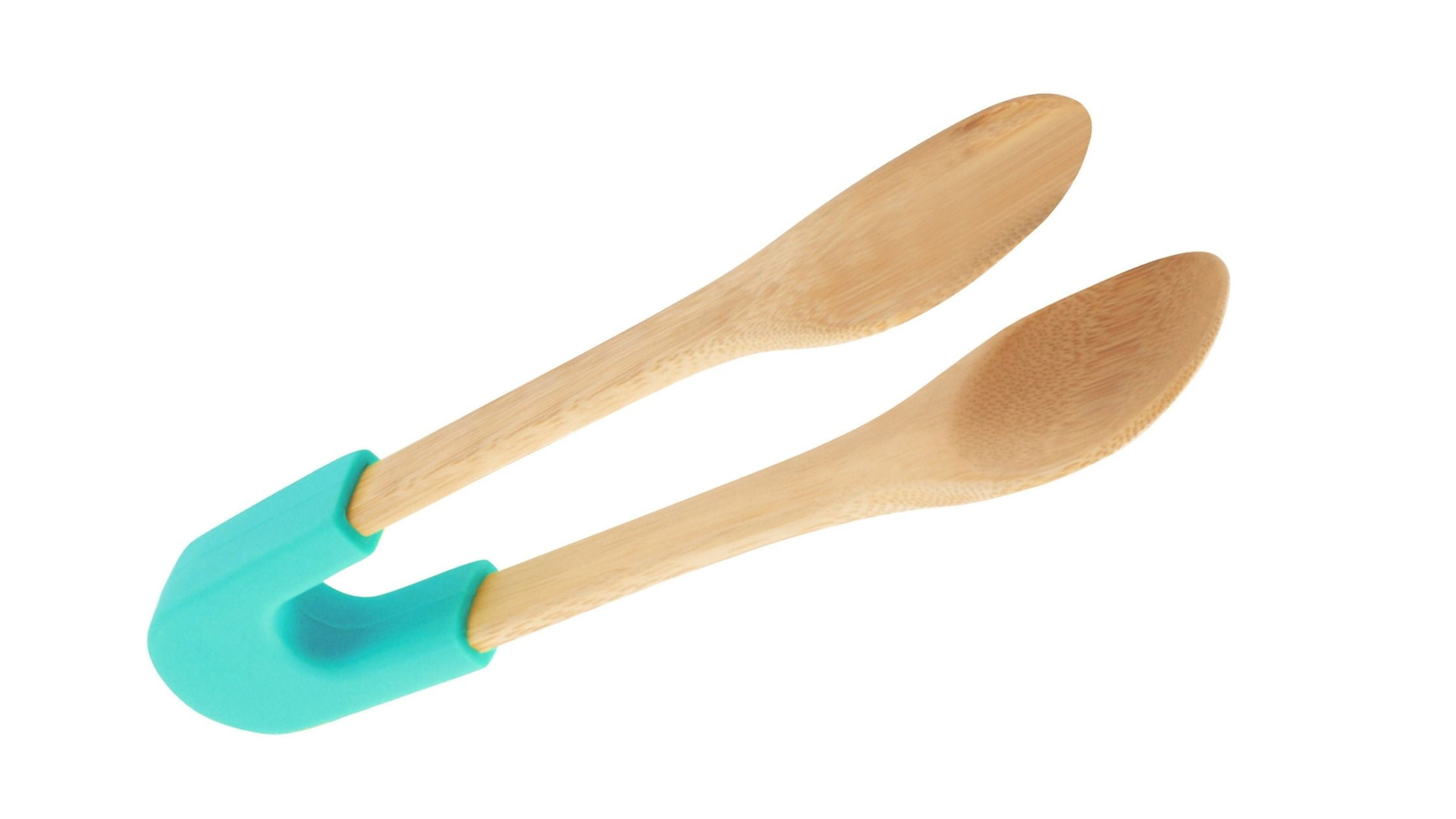 From the entire list, you are likely to be least aware of this type of tongs. These tend to be long and have jagged edges to help with a firm grip over food items. They are great for picking up a salad and for frying delicate food items like bacon.
---
How to Choose the Right Tong
You might be feeling overwhelmed with this long list of tongs, but you don't have to be. You can easily decide which suitable tong is for you from this list by considering the following:
Length
The first thing you should consider when you see a tong at the store is the length. A shorter one is likely to be ice tongs or mini tongs, but longer ones provide more benefits and stability during handling.
Material
As we have established, not all tongs are made from the same material. Therefore, you should consider your cooking style and what you plan to use a tong for during cooking. For example, silicone is best for high-heat cooking, whereas plastic is best for handling salads and cold things.
Shape of Handle
Tongs come in two different types of shapes; the spring one and scissors. Scissor-shaped handles are harder to use and maneuver, which is most people lean towards the spring one. The most common tongs are spring ones, such as kitchen tongs and salad tongs.
Hanging
Most people tend to hand their tongs in the kitchen instead of setting them in the drawers. However, if you plan to do the same, you should check your tongs to see if they have a hole that will allow for hanging.
What are the Benefits of Different Types of Tongs
A great benefit of using different types of tongs is that it can help with preventing cross contamination. For example, using a pair of poultry tongs to pick up raw chicken will help prevent any bacteria from the chicken from coming into contact with other food items.
Additionally, using specific types of tongs for different tasks can help to speed up the cooking process. For example, using a pair of salad tongs to quickly turn over small pieces of food on a grill can save time and energy.
Features To Look for in Types of Tongs
When looking for a set of tongs, you should keep a few features in mind. The first is the size of the tongs. You want to make sure that they are the right size for the job you need them for. If they are too small, you won't be able to grip things properly, and if they are too big, they will be unwieldy and difficult to use.
The second feature to look for is the material from which the tongs are made. Stainless steel is a good choice because it is durable and easy to clean. However, if you are looking for tongs that can grip delicate items, you may want to choose a softer material like silicone.
Finally, you will want to consider the style of the tongs. Some tongs have a straight edge, while others have a serrated edge. The type of edge you choose will depend on what you plan on using the tongs for. If you are only going to be using them for general tasks, a straight edge will suffice. However, a serrated edge may be a better choice if you plan on using them for more delicate tasks.
With these features in mind, you should be able to find a set of tongs that is perfect for your needs. Whether you are looking for something simple or something more elaborate, there is a set of tongs out there that is perfect for you. So, don't be afraid to experiment and find the perfect set of tongs for your kitchen.
Types of Tongs
Material
Size
Style
When looking for a set of tongs, size, material, and style are features you should keep in mind. The first is size; you want to ensure they are the right size for the job you need them for. If they are too small, you won't be able to grip things properly, and if they are too big, they will be unwieldy and difficult to use. Second is material; stainless steel is a good choice because it is durable and easy to clean. However, if you are looking for tongs that can grip delicate items, you may want to choose a softer material like silicone. Finally, style; some tongs have a straight edge, while others have a serrated edge.
The type of edge you choose will depend on what you plan on using the tongs for. If you are only going to be using them for general tasks, a straight edge will suffice. However, a serrated edge may be a better choice if you plan on using them for more delicate tasks. With these features in mind, you should be able to find the perfect set of tongs for your needs.
Conclusion Regarding Types of Tongs
Ultimately, the decision on which type of tong to get depends on your cooking style, needs, and preferences. First, you should consider what you plan to use your tongs for most frequently. The most common types of tongs people get are kitchen, salad, or grilling tongs. These utensils make cooking fun and easy, so consider these types when browsing for the perfect tong for you!