Did you know there are different types of tamales? Are you a fan of tamales? Tamales are simply delicious; this staple of Latin American cuisine sure can make anyone fall in love with their taste. Some will understand, and some have to give them a try. So today, you'll be learning about different types of tamales.
Whether you've tried them before or not, we guarantee no single person doesn't become hooked on tamales after that first bite. The reason may be due to a wide range of varieties. The chances are that you can find a tamale flavor that will surely satisfy nearly every palate.
If you consider yourself a foodie and enjoy discovering new and exciting flavors, tamales are just the thing to try next. You may find them in your country or have to look up a recipe or do a local search in your area; either way, you are in for a treat. Get to know different types of tamales below.
Types of Tamales
Portobello and Polenta Tamales
Here, beautiful, fresh corn husks are used as tamale wrappers. You can easily embellish the tamales by adding slices of grilled Italian sausage or, to be really decadent, a few disks of foie gras terrine.
Burnt Strawberry Tamales
These tamales are made by charring strawberries in a skillet, then mixing them into a buttery masa filling.
Chicken Tamales with Tomatillo-Cilantro Salsa
These light and fluffy tamales are great to make ahead for weekday lunches.
Crispy Baked Pork Tamale
This crusty casserole of succulent mole-braised pork, sandwiched between tender, cakey masa dough, is like a supersized tamale.
Quick Chicken-and-Cheese Tamales
Here, store-bought rotisserie chicken and cheddar cheese are mixed into a quick dough and then wrapped in plastic before being steamed.
Pulled-Pork Tamales
These powerfully flavorful tamales are best-served piping hot with a robust beer like a brown or red ale.
Fresh Corn Tamales With Shrimp In Roasted Garlic Sauce
Shrimp plays the starring role in this stellar tamale recipe from star chef Bobby Flay.
Where to Find Tamales?
Authentic, fully cooked natural Tamale made with organic corn masa, fire-roasted Hatch green chilies, rBST Free cheese, and wrapped in a corn husk. Certified Gluten-Free.
Ingredients include; Sweet Corn Masa (Water, Organic Ground Corn Flour, Organic Sweet Kernel Corn, Expeller Pressed Canol.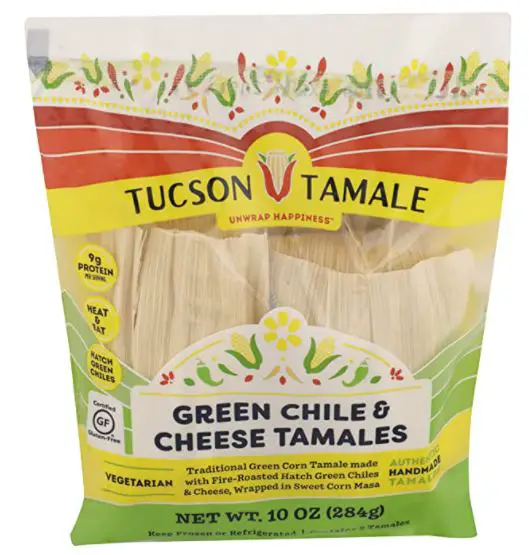 Features:
Organic corn masa
Hatch fire-roasted Chile
Gluten-Free
---
HORMEL Tamales bring you the delicious taste of traditional tamales that has been celebrated for years. Savor the perfected flavor of corn-wrapped tamales covered in the familiar taste of HORMEL Chili.
From a flavorful fiesta with friends and family to an afternoon snack, tamales are a Latin American delicacy that can be enjoyed on any occasion.
Slow-cooked in a spiced chili sauce, these tamales make delicious and authentic dinners that are sure to satisfy.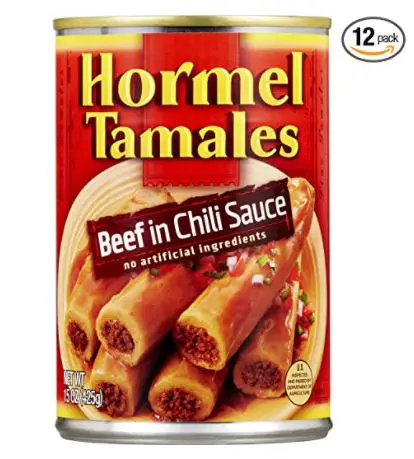 Features:
Beef in chili sauce
Source of Protein
---
24 Red Chile pork tamales made by The Authentic New Mexican, shipped from Albuquerque.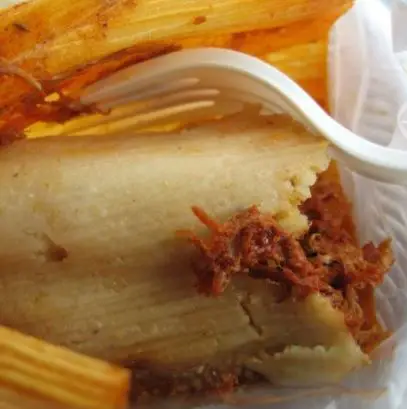 Features:
New Mexico Red Chile
Thermal Packaging
---
Common Questions Regarding Types of Tamales
How many types of tamales are there?
Believe it or not, there's a huge variety of tamales. This traditional dish can be prepared using various ingredients, giving way to many tamales types.
In their native Mexico, each region and state has certain tamales, so many that the variety is estimated at between 500 and 5,000 throughout the country.
What are the most popular types of tamales in Latin America?
If you ever found yourself in Latin America, you need to give tamales a try. Tamales are a staple of Latin American cuisine, and many versions can be found across the continent. You can start with the following exquisite versions:
Mexican tamales
Mexican tamales have a dough made from ground corn, lime, and fat and filled with meat that has been marinated with mole or salsa. Some of them are also filled with veggies, beans, and/or cheese. The tamale is wrapped in a corn husk, tied with string, and steamed.
Tamal Tolimense
These are found in Colombia. The best Colombian tamale is believed to come from the Tolima department, east of Bogotá, a region known for its rice plantations. Its yellow dough has rice, chickpeas, a hard-boiled egg, carrot, pork, beef, and chicken. It is cooked wrapped in a plantain leaf, and combining all these ingredients gives it a unique, hearty flavor.
Hallacas
You can enjoy Hallacas while in Venezuela. The ingredients vary from region to region and are a typical Christmas dish in the country. The dough is made from ground corn mixed with achiote cooked in pork fat and chicken broth. The filling is a stew or guiso made with beef, pork, bacon, onions, raisins, and spices.
Pasteles en Hoja
Pasteles en Hoja is the Caribbean version of tamales, and they are trendy in the Dominican Republic and Puerto Rico. The dough in these pasteles is not corn-based but made with a mix of grated plantains and other roots like yucca and yautía. They are filled with minced beef or chicken stewed in a flavorful tomato sauce with green olives and raisins.
Tamales Colorados
Guatemala's version of this dish, tamales Colorados or red tamales, is much larger in size and has a characteristic red color yielded by achiote in the filling. The filling is made with chicken stewed with guajillo chiles, achiote, cinnamon, cloves, and other spices, giving it a very distinctive flavor. The tamales are placed in a steamer, covered with additional banana leaves, and steamed until cooked.
What are the flavors of tamales?
As you can see, tamales may have a wide range of flavors depending on the ingredients used.
However the most popular flavors are chicken and pork, but tamale filling options are almost endless. There's even a variety of savory and sweet options, including jalapeno and cheese, mole, pineapple, and sweet cream, but filling types can vary from family to family or from region to region.
What is a traditional tamale?
Tamales are a traditional Mexican dish with a corn-based dough mixture filled with various meats, beans, and cheese. Tamales are wrapped and cooked in corn husks or banana leaves, but they are removed from the husks before eating.
What are the components of a good tamale?
This delicacy has three main components: the masa or dough, the filling, which usually has meats, cheeses, fruits, and or vegetables, and lastly, the wrapper, typically a corn husk or a banana leaf.
How to freeze tamales?
To freeze them, allow the cooked tamales to cool completely, then stick them in a freezer ziplock bag and freeze for up to 3 months.
How to reheat tamales?
Wrap leftover or frozen tamales in a few dampened paper towels and microwave until warmed through. The wet paper towels will help them "steam" as they are reheated. Be careful when unfolding them; they will be hot.
How to make tamales?
Soak the corn husks. Place corn husks in a bowl of boiling water for 30 minutes or until softened.
Prepare desired filling. You'll need about 3 ½-4 cups of filling for one batch of tamale dough.
Make the masa dough. In a large bowl, use an electric mixer to beat the lard and two tablespoons of broth until fluffy, about 3-5 minutes. Combine the masa flour, baking powder, salt, and cumin in a medium bowl; stir into the lard mixture and beat well with an electric mixer. Add the broth, little by little, to form a very soft dough. Beat on high speed for several minutes. The dough should spread like creamy peanut butter and be slightly sticky. Cover the mixing bowl with a damp paper towel to keep the dough from drying out.
Assemble the tamales. Lay a corn husk, glossy side up, on the counter with the wide end at the top. Scoop about ¼ cup of dough onto the top, center of the corn husk. Lay a piece of plastic wrap over the dough and use your hands to press and spread the masa into a thin layer, about 1/4 inch thick. Keep the dough spread along the top half of the corn husk to allow plenty of room to fold the bottom husk up when it's time. Place 1-2 tablespoons (Types of spoons and their different uses)  of the desired filling in a line down the center of the dough.
Fold in one long side of the husk over the filling. Fold in the other long side, overlapping the first (like folding a brochure). Fold the bottom of the husk up.
Tie the tamales. Tying the tamales can help you differentiate them if making more than one filling. However, you don't have to tie a corn husk string around them to secure them, as they will hold together without it, stacked upright, side-by-side in the pot.
Cook on the stove-top or Instant Pot.
Steamer: Bring water to a boil; once boiling, reduce to a simmer and steam for 45 minutes to 1 hour. Check them after 45 minutes.
Instant Pot: Cook on Manual/High Pressure for 25 minutes. Allow pressure to release for 10 minutes naturally, and then quick release.