Are there Different Types of Banana Hanger Options to choose from? Tired of bruised and damaged bananas? Then you may want to consider getting a handy banana hanger. There are different types of banana hangers out there, so today, we'll be sharing with you useful information on how you can choose your own and say goodbye to damaged bananas for good.
You must know that people who keep their bananas on little hangers aren't doing it only because it looks pretty; there's actually a good reason why banana hangers are a must if you consume bananas at home. By keeping your bananas safely hanged, you are optimizing the banana ripening process.
Therefore, banana hangers, sometimes known as banana hooks and banana holders, help all different bananas last longer and ripen evenly. Now that you know how important banana hangers are let's get to know different types of banana hangers and where you can shop for them.
Different Types of Banana Hanger Options
This holder is the perfect place to keep your bananas from bruising. Perfect for your kitchen or dining room table. This sturdy and attractive banana holder will add a simple look to your kitchen and dining area with a sleek design.
Add more counter space by hanging your bunch on this decorative tree. This long-lasting tree will always withstand your bananas. Made from durable and rust-resistant materials.
This banana tree can withstand a bunch of bananas, so you can avoid leaving them on your counter.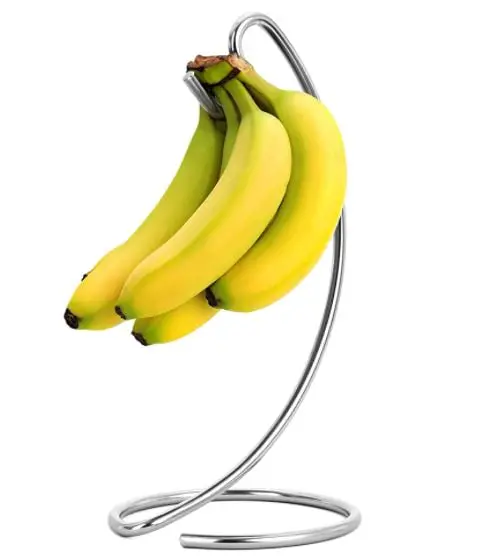 Features:
Provides easy access
Decorative design
Rust resistant
Durable
---
With a sturdy design, this banana holder is built to last with a broad base for stability; stainless steel hook keeps bananas securely in place while suspending them above the counter; measures 7″ wide at the base and 11″ high.
This banana hanger not only can be used to display your favorite fruit, but it also allows the fruit to ripen naturally so that it doesn't go off too quickly. Place a bunch of bananas on the sturdy hook, and a high-quality stainless steel hook will ensure it stays fresh after a couple of days.
The sleek design makes it easy to find a place to store this elegant banana holder. You can clean it easily. Hand washes or wipes with a damp cloth, then air dry thoroughly. Do not soak in water or wash in the dishwasher.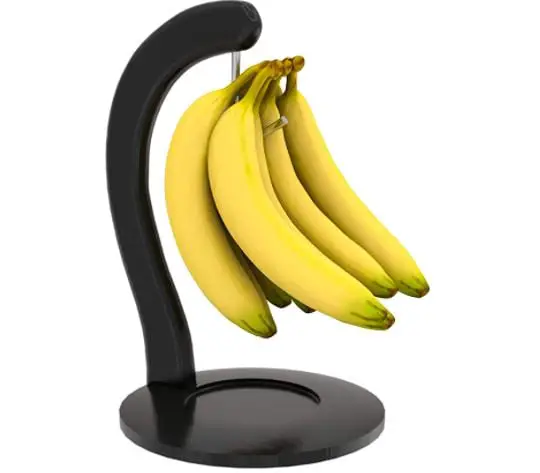 Features:
Keep fresher longer
Sturdy and stable
Multi-functional
Premium bamboo wood
Easy care
---
Gadget Banana Hook is a plastic hook that adheres under a kitchen cabinet and holds many bananas while they ripen. When not in use, it folds up out of sight. It also works well for hanging dry herbs, peppers, grapes, and bags of garlic. And the chrome finish matches and reflects off kitchen appliances and fixtures.
It also reflects surroundings. Keeping bananas on hand has its challenges. Many bananas are bulky and take up counter space while they sit and wait to ripen or be eaten.
Sitting also increases the chance of being bumped and bruised. But hanging bananas saves space, allows the bananas to ripen naturally, and prevents bruising. Your bananas will stay fresher, longer. Reduces waste, too.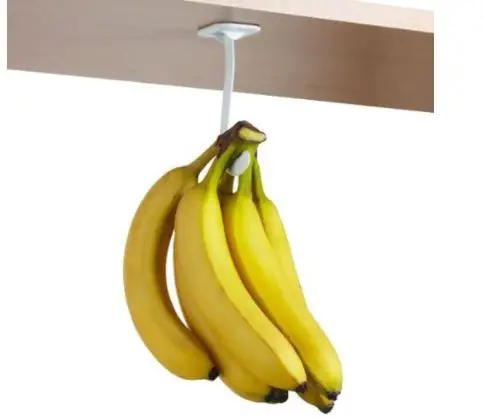 Features:
Easy to install
High-quality ABS plastic
Solid construction
Strong adhesive pad, 2 screws
---
It comes with two banana hangers that help keep your bananas firm, fresh, evenly ripened, and free of bruising and soft spots.
Having a fruit basket in 4.92 inches Bowl depth holds a good amount of fruit. The middle rod has a height of 15.3 inches which keeps bananas fresh longer when they're completely away from other fruit. Three large feet of support can hold the weight of bananas alone. It won't tip. The bowl below is empty, and only one bunch of bananas remain on one of the hooks.
The middle rod with hook can be removed if you only want to use the bowl. You only need to tighten the screw. Allen wrench and screw are included.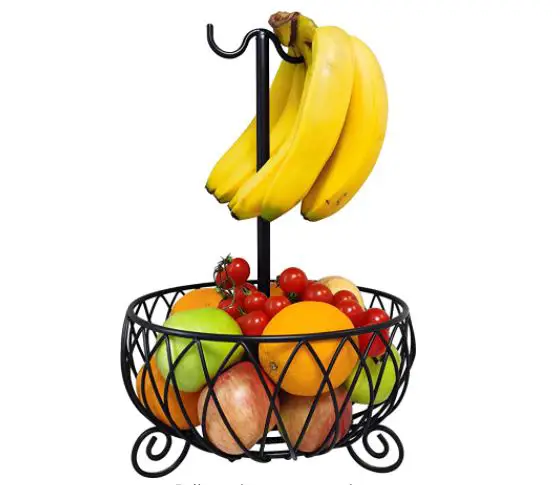 Features:
Convenient design
Steady Structure
Detachable banana hook
Easy to Assemble
---
The stem holder will keep your bananas lifted and away from the rest of your contents and away from damage.
Each bowl will be truly unique! The wood grain will vary slightly from bowl to bowl, creating a distinct and high-quality feel.
The banana stem is individually handmade by an expert craftsman and removable to create a fully functioning serving bowl. Wipe clean with mild soap and water. Dry thoroughly.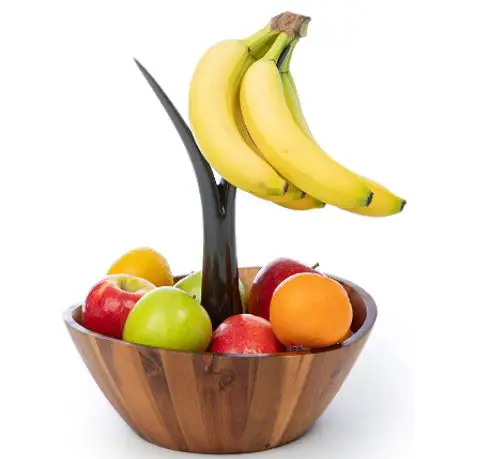 Features:
Beautiful wood grain
Removable stem for bananas
Handmade
Easy care
---
This Cuisinart Fruit Basket with Banana Hook features a sleek modern design which makes for a great piece to showcase and organize your fresh produce.
Whether you want to keep some fruits separate, use fruit as tasty centerpiece table decorations, or have a convenient way to store all your ingredients for your daily smoothie, finding the right bowl (or basket) for the job is key.
This versatile wire fruit basket stand will be the perfect addition to improving your kitchen storage and providing a sleek design to brighten any dull kitchen.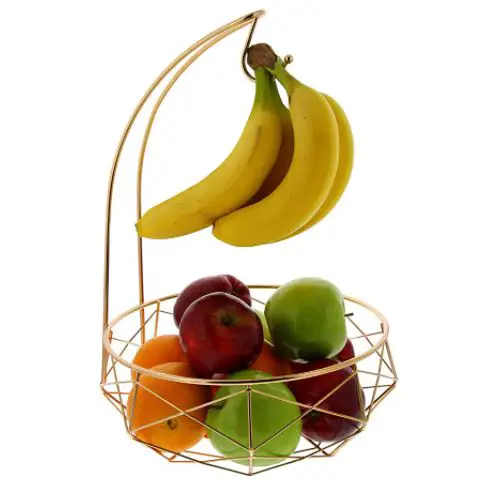 Features:
Stainless steel fruit basket
Easy to clean; wipe with a damp cloth
Holds a variety of fruits
Prevents bananas from bruising
The integrated banana hanger can hold bananas, grapes, peppers, or even herbs.
---
The fruit basket is balanced, durable, and easy to assemble; it helps the fruit breathe without leaving large dimples and keeps bananas from bruising excessively while ripening. You can take off the banana hanger if you don't need it and still look nice.
The fruit bowl size is great; it holds a whole bag of apples, some oranges, and a bunch of bananas; the fruits aren't crowded, and there is plenty of room for the bananas to hang.
The fruit bowl is fit on the kitchen counters or any other tables; you can put as fruit bars or fruit holder, keep fruits in 1 place and easy to access the fruits, saved more countertop space.
The fruit basket stand is functional and modern, use as a decorative item to your house; chrome plating, detachable hanger provides the capability to hang bananas and grapes.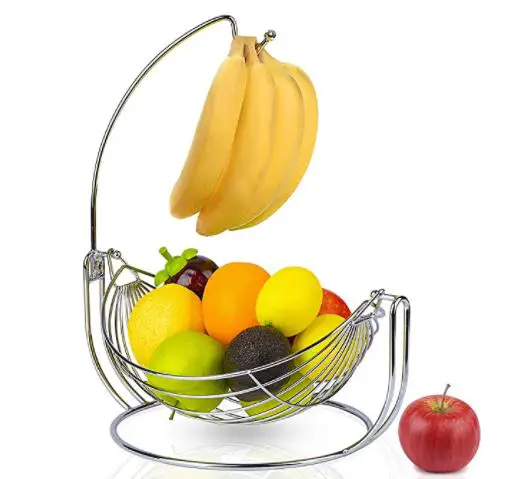 Features:
Chrome plating
Detachable hanger
Balanced
Durable
Easy to assemble
---
Aspects to Keep in Mind When Buying Banana Hangers?
Materials
You can find banana hangers made either of wood, metal, or plastic. Each offers to be equally helpful in expanding the life of your bananas, so the specific design you choose relies solely on your preferred aesthetic.
Mounted vs. Freestanding
To choose if you want your banana hanger to be mounted or not, think about the space in your kitchen and decide which option will suit your kitchen space the most.
Generally, when working with a smaller kitchen with tight countertop space, a holder mounted to a wall or your kitchen backsplash is considered a smart choice. On the contrary, if you have plenty of room in your kitchen and you like the look of a traditional banana hook, go for a freestanding model.
Extra Storage
While the main goal of a banana hanger is to hold your bananas to prevent bruising, some designs include additional storage in the form of a basket. If you prefer to keep your fruits and veggies outside of the fridge, you may choose a model with this feature.
Accessories
Some banana hangers come with accessories like a banana slicer. It's not a requirement for a quality banana holder, but you may want to consider it.
Common Questions Regarding Types of Banana Hangers
What is the purpose of a banana hanger?
Banana Hangers' main purpose is to help you in avoiding early bruising and help to preserve your bananas for as long as possible.
This is possible because bananas that are kept in banana hangers receive proper airflow inhibiting ethylene gas, naturally produced by bananas, from speeding up the ripening process, as a result helping to safeguard the lifespan of your bananas.
What are some of the benefits that different types of banana hangers offer?
Banana hangers slow down the banana ripening process
Banana hangers delay spoiling
Banana hangers help your bananas last longer and ripen evenly
Banana hangers also prevent the bananas from sitting upon a hard surface and bruising under their own weight
Do bananas mature faster in a bunch or separated?
Bananas kept in a bunch do ripen faster. The reason is that the production of ethylene gas is more concentrated in a bunch than if you separate the bananas.
Most fruits ripen similarly, but bananas emit far more ethylene than most fruits and ripen much more rapidly.
What happens when you keep bananas in the fridge?
While storing your bananas in the fridge won't damage the actual fruit, do not freak when the skins turn brown, as ice crystals form in the skin cells.