Interested in knowing about types of kitchen handles? Would you like to learn all there is to know about kitchen handles? We hear you, kitchen handles make for a key element of every kitchen cabinet, and if you are interested in the matter, you might as well start by learning about its different types. So, today you'll be getting to know about types of kitchen handles.
Handles distinctively offer a basic purpose, but their function is much more than that. Having the right handles means creating a customized and unique ambiance in your kitchen, where you probably spend a lot of time.
As you can see, something as simple as a kitchen handle can also become a part of your home's entire ambiance and décor. When thinking about kitchen handles, there are key elements you need to consider to choose the one that will suit your specific needs. Therefore it becomes relevant to know about the types of kitchen handles.
What are the Different Types of Cabinet Handles?
These are the most popular types of cabinet handles:
Traditional Steel or Nickel Pulls and Knobs
Simple and unpretentious, these basic metal knobs or pulls work on almost any kitchen cabinetry style.
Tubular Bar Pull
Some designers select a sleek tubular bar pull for a more modern look. These can be long, dramatic, short, and classy and work well on flat-panel or Shaker-style cabinet doors.
Wire Pulls with Accents.
If your kitchen leans towards traditional, your cabinets will look beautiful with rustic pewter wire pulls. Look for some that feature scrollwork or other decorative elements.
Pulls with Exposed Screws
For a unique look to your kitchen, look for bronze or brass pulls with exposed screws on the sides. These can also be used to give your kitchen a commercial or industrial feel.
Ceramic or Glass Knobs
Also known as Depression-era glass, it's available in various colors and finishes. It can add some beautiful contrast to your kitchen—the sought-after choice for all vintage lovers.
Cup Handles
Introducing curved accents to a space, the rounded appearance of cup-style fixtures creates a decorative look that suits heritage designs. Fitted on the center of door fronts, they can be gripped on the underside rather than above, so fingerprints are hidden from view, making them easy to keep clean.
Flush Handles
Flat handgrips are designed to sit flush with cupboard door fronts and create a sleek and clutter-free look, whilst adding bold, geometric shapes to a space. This style also leaves little room for dirt and grime to get trapped around the edges, making it a hygienic choice for busy kitchens and households on the go.
Where to Buy Kitchen Handles?
Made of stainless steel with a brushed brass finish, hollow but sturdy and serve your purposes. The surface area is finely chamfered with hand-polished by hours, it touches a soft, smooth, and quality feel.
Each pull comes individually wrapped and bagged to protect the beautiful golden finish—a simple and quick installation.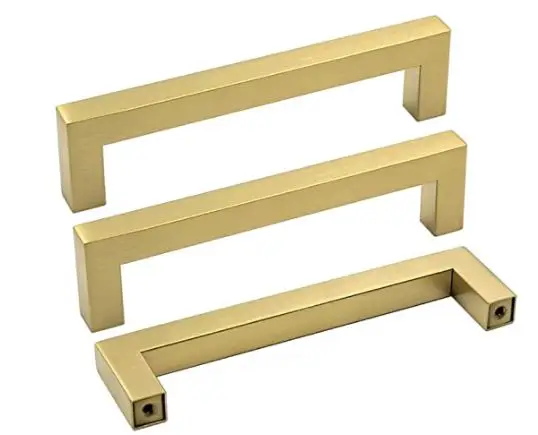 Features:
Sturdy and durable
Simple design
Stainless Steel
---
Made of solid metal, they are extremely durable and strong, not easy to break. You open and close those cabinets daily, so you need knobs that can handle years of constant use.
Along with square cabinet knobs, you will also get screws so that you won't have to run to the hardware store and try to find the right size for your new Cabinet Knobs.
Use a simple manual or powered screwdriver to attach these in seconds. Pre-drill holes to help maintain surface integrity.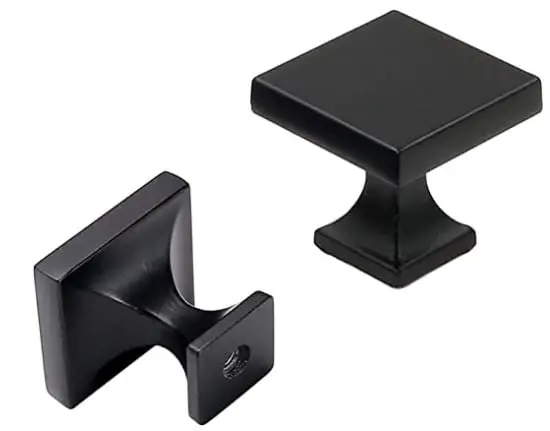 Features:
Simple design
Easy to Install
Zinc Alloy
---
Finished in matte black through powder coating process under high Temperature, this solid and heavy-duty handle set can resist rust, corrosion, and deformation for years.
It can be installed on the interior or exterior doors or with various materials, including wood or aluminum doors.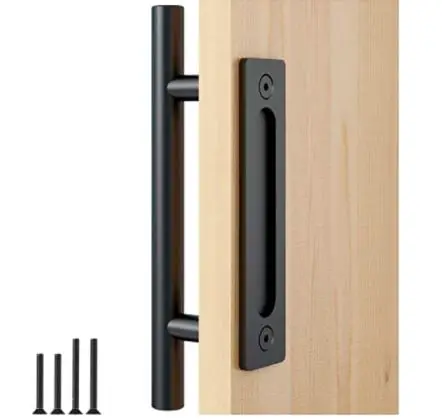 Features:
Carbon Steel
Rustic style
Matte black finish
---
The cabinet knobs and handles provide the ultimate finishing touch without sacrificing quality or style.
Brushed Nickel is the ideal component to any wood-stained or painted cabinets and drawers.
Adding cabinet hardware is the perfect way to add your sense of style to your home décor. A simple change can greatly impact the look and feel of any room.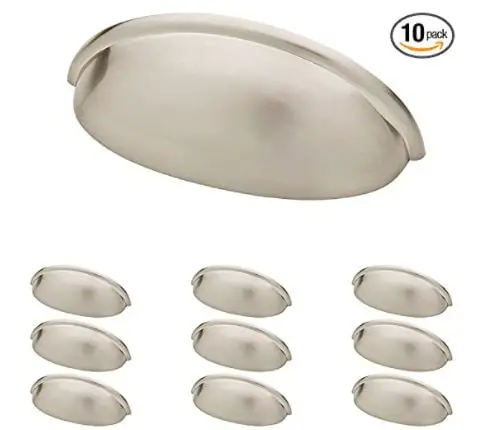 Features:
Brushed Nickel
Pull handle
Brass
---
Common Questions Regarding Types of Kitchen Handles
Which handles are best for kitchen cabinets?
Cup kitchen handles are the perfect choice for traditional kitchens. Pair yours with Shaker-style cabinets for timeless elegance. Cup handles usually look best in a metal material. Antique-effect brass is trendy, as well as vintage pewter.
What types of kitchen handles are most comfortable?
Generally, pulls are more comfortable on your hands and more practical for larger drawers and doors.
What kitchen handles are in style?
Simple tubular bar handle pulls in varying sizes (particularly in longer lengths) are probably the most popular. This is particularly true for modern and Shaker kitchens.
Flat bar handle pulls are an angular variation of the simple, sleek tubular pull. The flat square style accentuates the minimalist look.
How do I choose kitchen handles?
Consider the following when choosing your kitchen handles:
Color. For those who struggle with their eyesight, darker handgrips are a great way to improve the practicality of the design. As well as being easier to see, deep-hued fixtures hide scuffs and scratches, helping to keep a design looking newer for longer.
Texture. Great for introducing visual interest and character to a scheme, textured handgrips offer extra grip and purchase, making it good for homes with older family members. Look for knurled and brushed designs, which are both tactile and stylish.
Cabinetry. If you choose to go for an ultra-modern, handle-free look, you will need to ensure you get the right cabinets. Handle cupboards come pre-notched to accommodate the metal trims, making it easy to achieve a linear effect.
Should you use knobs or pulls?
You can mix knobs and pulls, but you should generally not mix different knobs or different pulls in the same kitchen. The exception to that rule is when you have a bank of cabinets in a different color or style from the rest of our kitchen. For the most part, if you want a mixture of hardware, the best way to achieve that is to use both knobs and pulls.
What colors and finishes are kitchen handles available?
Black. They can be layered with other charcoal-tone features for a sophisticated look or paired with paler elements to add contrast.
Copper. Copper adds a splash of color to a design, replacing the look of bronzed metals, especially when paired with glossy finishes, creating a statement feature.
Chrome. A bright metallic shade, chrome is versatile and can complement various decors, making it a great way to refresh and update a design.
Brushed steel. A muted alternative to other silvery colors, brushed steel fixtures have a light sheen that makes it good for those who want to maintain a pared-back interior.
Oak. Oak handgrips will introduce warmth and can be paired with similar features for a cozy space inspired by the outdoors.
Antique. They are great for rustic or heritage decors and add textural variation in engineered looks.
Polished. Polished finishes are a good choice for those who want to maximize light in compact or dark spaces.
Matt. With a sheen-free finish that can conceal marks, matt textures continue to rise in popularity with homeowners looking for low-maintenance designs. Reducing glare, this option will minimize distractions for a serene and calming space.
Additional Tips on Types of Kitchen Handles
If you are doing it yourself, knobs are easier to install, and a round knob will never be crooked.
There is a larger variety of knobs. So, knobs might be the best way to go if you want to make a color statement with your hardware.
Knobs are easier to change out, and they are also less expensive. So you might lean towards knobs if you want to change out your hardware frequently.
Pulls are easier to grab, so a drawer pull can be far more practical for cabinets and drawers that get a great deal of use day after day.
Would you be interested in reading about Types of Teapots? Perhaps types of Splatter Screens or banana hangers, they are quite useful!