Discover which is the Most Expensive Milkshake in the world plus try these other 5 Milkshake Options! Are you a milkshake lover and are in the search for your next recipe? Then you'll probably be interested in learning about the world's most expensive milkshake. So yes, for all the milkshake lovers out there, we'll be telling you today about some of our favorite milkshakes drinks, including the most expensive milkshake in the world.
Milkshakes are made of milk which instantly makes them healthy. Oftentimes, people link milkshakes with junk food, but that is not the case. After drinking milkshakes, do you notice how full you feel even without eating anything? Because the nutrients in the milkshakes fuel your body with all things good like carbohydrates, protein, vitamins, and minerals.
There you have it; the right milkshake recipes are filled with nutrients, so contrary to what you may think, milkshakes do a whole lot of good things in your body. If you want to discover a lot more about milkshakes and some of the best milkshakes recipes, grab pen and paper and feel free to pick your favorite.
What is the name of the most expensive milkshake in the world?
It's the Serendipity 's luxury milkshake
You probably think the world's most expensive milkshake is piled high with additional desserts or rimmed with other sugary toppings; however, it is made with farm-to-table ingredients and served in a crystal-studded milkshake glass.
The Serendipity's Luxe milkshake made its arrival in 2018 at the cost of $100 and was made famous by a social media influencer.
What makes Luxe milkshake so expensive?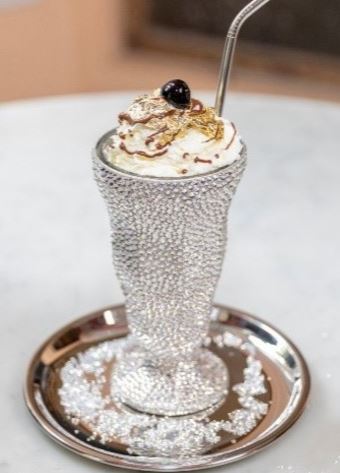 This milkshake's price tag begins with the glass itself. It isn't studded with just any crystals. Instead, it is covered with 3,000 Swarovski crystals and was designed by Crystal Ninja. From there, the milkshake is made with decadent and luxurious ingredients.
What are the ingredients in Luxe milkshake?
Luxe milkshake contains:
Jersey milk from cows bred in the Channel Islands, which means the milk has a high butterfat content.
Tahitian vanilla ice cream sourced from premium slow-grown, sun-cured vanilla beans is added in.
Thick and rich Devonshire clotted cream that's heated until the golden cream rises to the surface is poured in.
Madagascar vanilla beans, which are the most labor-intensive to grow over the course of up to three years, and 23-karat edible gold are added.
To top it off, whipped cream made from grass-fed cream infused with vanilla simple syrup is added.
Le Cremose Baldizzone, donkey caramel sauce, is layered on.
The cherry on top is a Luxardo gourmet Maraschino cherry produced in Italy.
Common Questions About the Most Expensive Milkshake in the World
What are some of the health benefits of milkshakes?
Milkshakes can be delicious and nutritious; these offer a good source of protein, fat, and carbohydrates.
Protein. Drinking milk makes our bones strong. Milk contains protein molecules called whey. Whey is much needed for our body to keep the protein going to the bones and muscles.
Fat. As you probably know, not all fats are bad. The fat present in milk helps regulate body temperature, especially during winters and cold days.
Carbohydrates. Another ingredient that constitutes a milkshake is sugar. In moderation, sugar is good. Sugar provides instant energy to the brain to function properly.
What is donkey caramel sauce in Luxe milkshake?
It's a rare sauce that's rich and sweet thanks to its Venezuelan cocoa, Piedmont hazelnuts, fresh donkey's milk, and cane sugar.
Where was Luxe originated?
Luxe was born at New York restaurant Serendipity 3, and behind the restaurant's extravagance is chef, Joe Calderone, receiving the Guinness World Records title for a Most expensive milkshake.
What are other Milkshakes worth trying?
Check out our top recommendations.
Apple Pie Puff Milkshake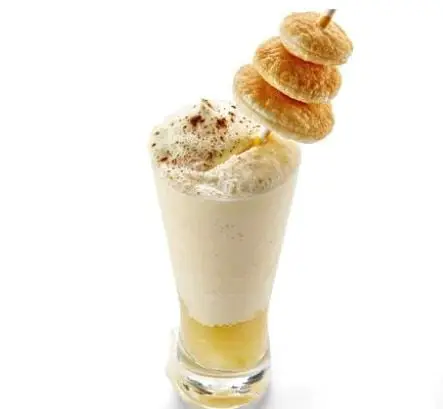 Ingredients:
Puff pastry
1/2 cup canned pie apples
Cinnamon sugar
whipped cream
Ground cinnamon
1/2 cup whole milk
Instructions:
Preheat oven to 220C/200C fan-forced.
Cut 3 discs of different sizes from 1 sheet of defrosted puff pastry.
Sprinkle with cinnamon sugar.
Make a hole, large enough for a straw to fit, in each disc.
Bake for 8 minutes or until golden.
Make Basic Milkshake, with 1/2 cup canned pie apples and a generous sprinkle of cinnamon sugar. Blend.
Place extra pie apple into the base of a glass.
Pour over a milkshake.
Top with whipped cream.
Sprinkle with ground cinnamon.
Thread the pastry discs onto the straw.
Eton Mess Freak Shake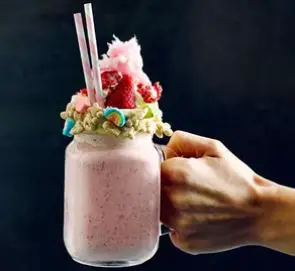 Ingredients:
50g white chocolate
handful Lucky Charms cereal to decorate
400g strawberries, hulled and halved, a few reserved for decorating
200ml full-fat milk
3 large scoops of clotted cream ice cream
2 generous squirts of whipped cream
1 mini pink meringue, crushed into chunks
handful freeze-dried strawberry for decorating
10g candy floss
Instructions
In a microwaveable bowl, melt the chocolate in the microwave for 2 mins on high. Stick the Lucky Charms to the chocolate and leave to set for 1 min.
Put the strawberries in a blender or smoothie maker and blitz until puréed. Pour in the milk and blend again. Add the ice cream and blitz until smooth.
Pour the milkshake into the two jars until two-thirds full. Squirt over the whipped cream until oozing out the jars. Scatter the crushed meringues on top of each and add a few of the reserved strawberries. Scatter over the freeze-dried strawberries and place the candyfloss on top of each. Serve with straws and a long spoon.
Boozy Caramel Mini Shakes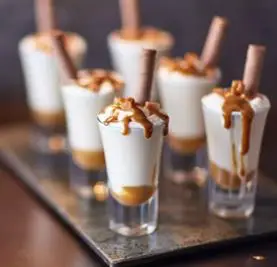 Ingredients:
50ml double cream
50ml Irish cream liqueur
2 tbsp. caramel
150ml milk
25ml vodka
2 scoops of vanilla ice cream
6rolled chocolate wafers
2pieces of fudge, chopped small
Instructions
In a small bowl, whisk the double cream until thick, then add 1 tbsp. of the cream liqueur and whisk again until the mixture holds its shape, then transfer to a disposable piping bag and set aside.
In a small jug, stir together the caramel and 2 tsp of the cream liqueur until smooth, then pour into the base of 6 x 60ml tall shot glasses, reserving 1-2 tsp of the mixture to decorate.
Put the rest of the cream liqueur into a blender with the milk, vodka, and ice cream. Blitz until smooth, then pour into the prepared glasses.
Place the boozy cream on top, drizzle with the reserved caramel sauce and decorate with chocolate wafers and tiny pieces of fudge.
Chocolate Milkshake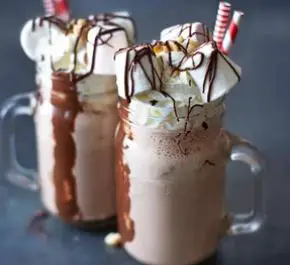 Ingredients:
1 tbsp. chocolate hazelnut spread (optional)
250ml semi-skimmed milk
2scoops chocolate ice creams
5 marshmallows
30ml double cream, whipped
1 tsp toasted hazelnuts, chopped
Instructions:
Load the back of a teaspoon with some of the chocolate spread and spread it in a long line from the bottom of the inside of the glass to the top.
Put the rest of the chocolate spread into a bowl in the microwave or a small saucepan over low heat.
Warm through for a few seconds just until runny and set aside.
Put the milk and chocolate ice cream into a blender.
Whizz everything up until smooth, then pour into your prepared glass.
Top with a layer of marshmallows and a spoonful of whipped cream.
Decorate with a drizzle of the warmed chocolate spread and a few toasted hazelnuts.
Serve immediately with a straw.
Vanilla Milkshake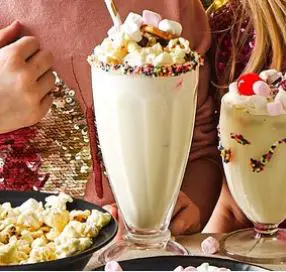 Ingredients:
200g vanilla ice cream
500ml semi-skimmed milk or whole milk
2 tsp vanilla extract
melted white chocolate and sprinkles to serve (optional)
Instructions:
Blitz the ice cream, milk, and vanilla extract in a blender until combined and creamy.
Pour into a large jar.
Dip the rims of four glasses in the melted white chocolate.
Leave to set slightly, then divide the milkshake between the glasses.
You can customize your shake with different toppings, such as mini cookies, marshmallows, pretzels, sweets, and squirt cream.
Common Question About The Most Expensive Milkshake in the World
Where is the 125 dollar milkshake?
The 125 dollar milkshake is located in California at the Malibu Cafe.
How much is the 125 dollar milkshake?
The 125 dollar milkshake costs $125.00. It is made with 12 scoops of ice cream, 24 ounces of chocolate syrup, and 16 ounces of whipped cream. The shake also comes with a gold-plated straw and a souvenir cup.
What makes the 125 dollar milkshake so expensive?
The 125 dollar milkshake is so expensive because of the ingredients used and the gold-plated straw and souvenir cup. The ice cream used is premium ice cream and the chocolate syrup is imported from Switzerland. The whipped cream is also made with real cream, not imitation.
How many calories are in the 125 dollar milkshake?
The 125 dollar milkshake has approximately 2000 calories.
Is the 125 dollar milkshake worth it?
The 125 dollar milkshake is only available at the Malibu Cafe in California. The price may seem expensive, but when you consider the ingredients and the souvenir cup and straw, the milkshake is actually a good deal. If you are in the area, it is definitely worth trying!
What Others Restaurants served Expensive Milkshakes?
Some high-end restaurants have gotten in on the milkshake game, charging upwards of $10 for a shake. These shakes often feature rare and expensive ingredients like bourbon, truffles, or ice cream from Switzerland.
Who and When the Most Expensive Milkshake was Invented?
The most expensive milkshake in the world was created by Chef Daniel Boulud and costs $100. It was first served at his New York City restaurant, Daniel. The shake is made with rare Tahitian vanilla beans, Kahlúa coffee liqueur, vanilla ice cream and chocolate shavings. It was served in a gold-leaf flake-rimmed glass with a gold spoon.
The shake was invented in 2014 and since then, only a handful of people have been able to experience it. The reason for its high cost is due to the rarity of the Tahitian vanilla beans. There are only about 200 pounds of these beans harvested each year, making them one of the most expensive ingredients in the world.
If you're ever in New York City and have a spare $100, head to Daniel and try out this once-in-a-lifetime treat! Who knows, maybe you'll be the next person to add their name to the list of those who have tried the world's most expensive milkshake.
Happy shaking!
Who made the first milkshake?
The first milkshake was made by an American soda jerk named Ivar "Pop" Coulson in 1922. Coulson mixed malted milk with ice cream and a bit of flavoring to create the drinkable dessert. He called it a "Frappe," which is French for "chilled." The frappe was an instant hit and soon became a staple at soda fountains across the country. Today, the milkshake is one of America's most popular drinks. Thanks, Pop!
What is the best selling milkshake?
According to Dairy Queen, the best selling milkshake is the Oreo Mint Blizzard. The Blizzard is a frozen treat that is mixed with Oreo cookie pieces, chocolate chips, and mint syrup. Many other flavors of Blizzard are available, but the Oreo Mint flavor is the most popular.
If you're looking for a delicious and refreshing treat, the Oreo Mint Blizzard from Dairy Queen is a great choice! This milkshake is made with Oreo cookie pieces, chocolate chips, and mint syrup – and it's one of the most popular flavors available. So next time you're in the mood for a sweet treat, be sure to try an Oreo Mint Blizzard from Dairy Queen! You won't be disappointed.
Most Expensive Milkshake in the World Video
---
Top Milkshake Makers
---
A nice almost perfect blender and Amazon's Choice is this beauty, costing less that $50, and features:
MAKE CLASSIC COLD TREATS, COFFEE DRINKS AND MORE: You can mix a wide variety of delicious creations with this talented drink mixer, from classic milk shakes to lattes, fruit drinks, cocktails and more
INCLUDES EXTRA-LARGE 28 OZ STAINLESS STEEL CUP: The big mixing cup gives you plenty of room, its 28 oz capacity lets you mix a large serving for 1 or 2 and makes it easy to add flavor and texture with fruit and candy mix-ins
EASY TO ACCESS AND CLEAN: The tilt-back head allows easy access when you need to add ingredients or take the cup on and off; After mixing, tilt the head back, remove the cup and detach the mixing spindle for easy cleanup in the dishwasher
MIX AND BLEND TO THE PERFECT TEXTURE: Go from gentle mixing as you start and adjust the speed higher as needed; The 2 speeds make it easy to create delicious concoctions and have more control as you mix
VERSATILITY AND CONVENIENCE: You can create way more than cold and hot drinks with this mixer; Keep it within reach on your counter to mix fluffy batters, beat eggs or make quick homemade dressings; It adds style to your kitchen and its compact footprint easily fits in
---
Consider one of the best blenders in the world, a must-have in your kitchen although a bit expensive but worth every penny.
NINJA CREAMI: With the Ninja CREAMi, you can transform everyday ingredients into ice cream, gelato, smoothie bowls, milkshakes, and more.
FROM HEALTHY TO INDULGENT: Easily enjoy a wide array of frozen treats like decadent gelato, lite ice cream, dairy-free, gluten-free and much more. The Ninja CREAMi makes delicious treats that fit your lifestyle.
COMPACT FOR YOUR COUNTERTOP: The CREAMi is compact in size allowing for seamless storage and fitting easily on your countertop.
FUN FOR ALL AGES: Easy-to-use functionality allows for the whole family to enjoy making frozen treats together.
MIX-INS: Customize your flavor and texture by mixing in your favorite chocolate, nuts, candy, fruit, and more to personalize any CREAMi treat.
7 VERSATILE PROGRAMS: (7) one-touch programs allow for the perfect combination of speed, pressure, and time to completely shave through your frozen pint. Choose between Ice Cream, Sorbet, Gelato, Milkshake, Smoothie Bowl, Lite Ice Cream​, and Mix-in.
CREAMIFY TECHNOLOGY: Unlike traditional ice cream makers, Ninja's innovative Creamerizer System finely shaves and churns ice particles into creamy frozen treats in minutes.
---
This sweet blende is available in five colors and comes with the following features:
RETRO DRINK MAKER: Brings the old time ice cream parlor right the kitchen – perfect for making milkshakes, malted milks, soda fountain drinks and even health drinks!
POWERFUL MIXER: Equipped with a 100-watt motor, this 2-speed mixer makes it easy to customize your milkshake thickness
MIXING CUP & ROD: Unit is built with a durable 16-ounce stainless steel mixing cup and mixing rod, and has a weighted base for added stability
EASY TO ACCESS & CLEAN: Tilt-back head and detaching spindle makes this easy to clean and easy to access
In addition to the World's most expensive Milkshake, would you also be interested in learning about the most expensive Ramen?