Ready to learn about types of pate? Are you a pate lover, or are you considering trying pate for the first time? Then you may be interested in expanding your knowledge about pate by learning about different types of pate. Pate is one of those dishes you want to do a little research on first. The reason why today, we'll be sharing with you different types of pate and more.
Though pate is consider a French delicacy and it offers a range of strong flavors, once you hear about its ingredients many decide to pass on it. However, you must know that pâté is packed with nutrients and calories and is associated with numerous health benefits.
Did it ever occur to you that there are different types of pate out there? Though pate is appreciated by many around the globe, truth is, it may or it may not be for you. Therefore it becomes relevant knowing and learning about different types of pate.
Types of Pate
Check out the most popular types of pate.
Type 1: Pate en Croute
Pate en Croute or the pie-crust is a pate baked in a pastry covering. The crust of the pie is cooked in a terrine. According to regulations, the dish should contain at least 50% of the meat that the dish is named after.
Pate en croute is baked with the insertion of "chimneys" on top: small tubes or funnels that allow steam to escape, thus keeping the pastry crust from turning damp or soggy.
Pate en Croute is usually made with pork and veal. However, many variants are available today, majorly the ones with poultry. It may be filled with a game on its own or in combination with different flavored stuffing such as pistachio and mushrooms.
Type 2: Pate en terrine
A forcemeat baked in a form or vessel without a pastry crust. The mixture was wrapped in suet or not, layered in a ceramic or steel loaf-terrine mold, cooked in the oven with a water bath method without pastry crust, and cooled.
Sometimes an infused gelatin is set on top for a decorative effect that also adds an additional layer of flavor. Served cold.
The main ingredients can be meat, liver, poultry, seafood, vegetable terrine as special dishes or vegetarian dishes.
Type 3: Pate en roulade
Forcemeats wrapped/rolled in wrapping material (not edible and edible material but not chicken or poultry skin)
Wrapping material: Plastic wrapped, Aluminium foil, Natural wax paper, Cured meat, etc.
The main ingredients such as meat, liver, poultry, and fish. Vegetable roulade as special dishes or vegetarian dishes.
This type of pate is typically baked or steamed; and it can be served cold or hot.
Type 4: Mousseline pate
The smoothest and most refined form of pâté made from an emulsion of puréed raw meat, eggs, and cream. The mixture looks like mousse, light, airy, and delicate.
The main ingredients such as meat, poultry, seafood, or liver. Made thourhg baking or steaming.
Can be wrapped in wrapping material or layering in a ceramic terrine mold or ceramic mini- cocotte mold. Can be served hot or cold.
Where to Buy Pate?
One 78 gram tin of truffled pork paté. A great tasting tapa pate with the unmistakable truffle flavor. A great tasting traditional paté. Ideal for "tapas" and snacking.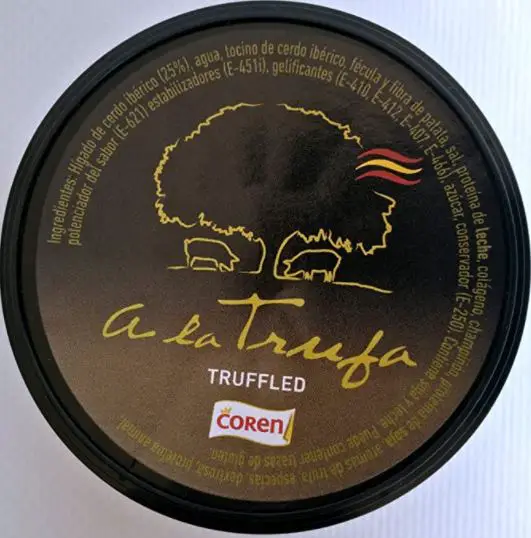 Features:
Four year shelf life
Paté spread
Pork liver (25%), pork bacon, water, potato starch
---
Made of Organic Pork, Organic Pork Liver, Organic Onions, Salt, Organic Spices, Organic Garlic, Organic Parsley.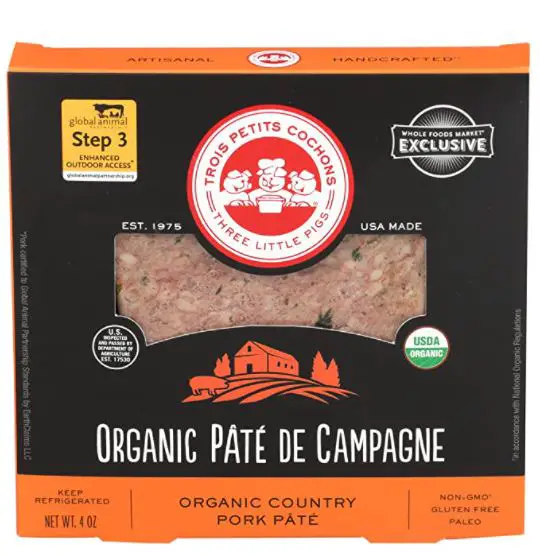 Features:
---
Half century recipe made with chicken meat. enriched with milk and soy proteins, and seasoned with selected natural spices.
Main ingredients include: water, cooked mechanically separated chicken, canola oil, milk proteins(sodium casienate (a milk derivative), whey (from milk), potato's starch, salt, defatted soy flour, spices, autolyzed yeast extract, and oleoresin paprika (color).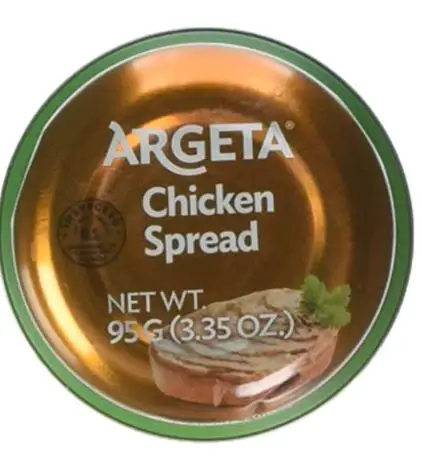 Features:
No Preservatives
Gluten Free
Chicken
---
La Rustichella Black Truffle Pate tastes amazing. Each ingredient is carefully selected to ensure optimum quality at the time of cooking, thereby maintaining the unique consistency of each truffle pate.
Its unique fragrance is strong, yet delicate, making it perfect for cakes, pastas, canapes, risottos and salads. This is also delicious on crackers and crusty bread.
This truffle pate is not only made in the highest quality, but is so versatile and lends a delicious earthiness to anything to which it is added. Try it in beef, chicken, shrimp, potatoes, mushrooms, rice, and pasta, and see how the truffle pate will make your dishes tastier.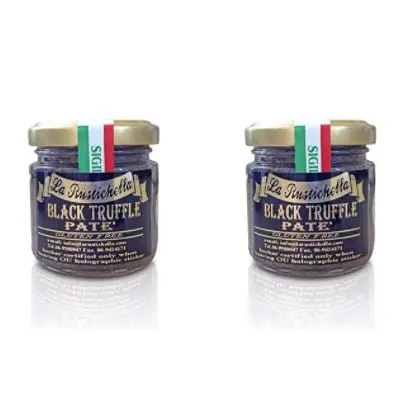 Features:
Gluten-free
Certified Kosher
Black truffle
---
Common Questions Regarding Types of Pate
Is pate the same as terrine?
Usually made in a terrine (a porcelain dish), pâté may also be referred to as terrine, used as an abbreviation of pate en terrine. Though some consider terrine to imply a coarser, heartier pate, the two terms are used interchangeably today.
Pate is an umbrella term for this slow-cooked, chilled chunk of meat.
What type of pate is served in a crust?
A pate served in a crust, usually a flaky pastry dough, is called pâté en croute. It's incredibly difficult to master, but this type of pâté may be the easiest to palate for some.
What is the most popular pate?
Pate de campagne is considered the most popular option among beginners. This country-style pate is traditionally made with coarse ground pork meat and pork liver with garlic, parsley and sometimes onion, rosemary and clove, making it a savory and easy intro to those unfamiliar with pâté's often unique texture and flavor.
What type of pate is best?
Mousseline pate. The smoothest and most refined form of pate made from an emulsion of puréed raw meat, eggs, and cream. The mixture looks like mousse, light, airy, and delicate.
The main ingredients such as meat, poultry, seafood, or liver.
What type of meat is pate?
Pâté is often made of pig meat and parts, but wild game like snipe, partridge, venison or wild boar can be cooked into a pate, as can farm-raised duck, rabbit or pheasant. Even vegetables can be made into pate. Lean meats might require the addition of some pork fat to keep the pate from drying out in the oven.
What pate is made of?
Traditionally, pate is made with liver, and mixed with wine and spices until it's cooked down into a spreadable texture, pâté can also be created with liver or other parts of pork, venison, chicken, fish, duck and other game, and even created with veggies on occasion.
What is the composition of pate?
Forcemeat
This emulsified mixture of ground meat and fat makes up the body of the pate and the forcemeat consist of:

Primary meats: Meats that must total more than half the pâté forcemeat's weight.
Secondary meats: Meats added to a pate forcemeat, to add a rich mouthfeel and to lighten the color of the finished product.

Fats for Pate Forcemeats: Such as chicken fat, turkey fat, or duck fat
Seasonings for Pâté Forcemeats: Salt, spices, herbs, aromatic vegetables, meat glazes, alcoholic beverages or cream, etc.
Internal garnishes
Refers to pieces of food are placed within the forcemeat to add texture, flavor, and visual interest. These may include nuts, beans, dried fruits, and vegetables.
Liners and wrappers
A pate forcemeat is usually contained in some form of wrapper or liner. Only mousselines pate are not wrapped or lined. Pastry dough/Pate dough wrappers for pâtés en croûte
These doughs must be sturdy enough to hold up to heavy forcemeats and the steam, juices, and rendered fat they produce. Pate dough consists of flour, unsalted butter, salt, water, and egg.
Leaf vegetables, Nori seaweed sheet, Cured meat, Smoked beef, Smoked turkey breast can be as a liner.
Sealers
After a pate product was baked and cooled, it was sealed with a semisolid fat to preserve it.
Modern pâtés and terrines are now more often sealed with liquid aspic for presentation purposes.
For pates en croute, use flavorful, clear liquid aspic to fill the gap and adhere the crust to the forcemeat. Lard is the traditional material used to seal terrines for extended storage.
What are some of the health benefits that pate offers?
Pate is a rich source of iron and copper. The copper that you take in through your diet activates cuproenzymes that are vital for the good health of the body. A pâté serving of 1-ounce contains about 113 micrograms of copper. The iron content of pâté (1.5mg per serving) also makes an essential component of enzymes that generate energy.
Pate contains a high quantity of Vitamin A and B-12. Vitamin A enhances the efficiency of the immune system.
A single serving of pate contains 0.17 milligrams of Riboflavin and 11.8 micrograms of Selenium. Riboflavin or Vitamin B-2 plays a vital role in metabolic functions. It is required in the process of nutrient breakdown.
Are there any downsides with pate?
Although pate is a great source of essential vitamins and minerals, it holds risks for your cardiovascular health. Therefore, it should be consumed with caution. As you have realized, pate is made with meat and fat, which makes it a rich source of fat and cholesterol.