How many Types of Teapots are there? Are you a tea lover, or perhaps are you interested in becoming a tea drinker? Then you may want to start by getting the best teapot you can find. To do that, you need to get your facts straight, learn about teapot types, and decide which would work best for you.
If you've decided to enter the world of tea, you need to learn how to make it properly, and you can't do that without a teapot. In reality, you can, but if you want to become serious about your tea, a teapot can make the experience a lot more enjoyable.
Though it may sound like a daunting task, choosing a teapot with numerous types in the market isn't difficult at all. That said, there are several elements you need to consider when choosing your teapot. Continue reading and learn about different types of teapots.
Types of Teapots
Ceramic Teapot
Ceramic teapots have been used by tea drinkers for over 11,00 years, and a good reason. These teapots almost always feature a traditional design and provide a simple elegance that appeals to a broad range of tea enthusiasts.
Some ceramic teapots feature more intricate and ornate designs and usually include a matching set of cups.
Stainless Steel Teapot
The aesthetic appeal of stainless steel teapots is one of the biggest reasons they are so popular. Stainless steel is highly durable and very resistant to corrosion.
Stainless steel also provides excellent heat retention and conduction, which generally makes them conducive to both heating on the stove and holding the tea after it's been brewed.
Certain stainless steel teapots are even constructed with vacuum technology, which allows them to keep the tea hot for an extended period that other teapots can't come close to matching.
Glass Teapot
Glass teapots are a popular choice for brewing loose leaf teas, and many come with built-in infusers in the center, which can sometimes act like a French coffee press.
Glass teapots offer an advantage that no other teapot can, which is the obvious distinction of being see-through.
This allows for an appetizing experience during the brewing process and makes for an excellent visual that provides a clean and clear appearance for both yourself and guests.
Cast Iron Teapot
Cast Iron teapots first made their appearance in Japan many years ago and remain a popular and viable choice today for tea brewing. These teapots often have an elaborate and intricate appearance making them both functional and decorative, and also make for a great collector's item.

These offer fully even heating during the brewing process, fostering a greater flavor in the tea itself. These pots are perfect for brewing darker teas due to the high heat amount provided.
Copper Teapot
Copper is one of the best metals to use for heating and offers optimal conduction ability. This allows you to heat the water inside at a rapid pace while also retaining the heat afterward.

Copper also resists staining and effectively prevents the buildup of any mold that could grow in your teapot. A simple rinse after each use is often enough to clean the pot, and shining the outside is also a simple process.
Electric Teapot
Electric teapots offer numerous features and advantages that make them ideal for precision brewing without the need for heating the water on a stove or fire. They can come in a variety of shapes and materials and range in their price and features.

These teapots allow for convenience and ease of use and are suitable for all types of teas.
Where to find different types of teapots
This generously large 42-ounce capacity teapot is the perfect size for entertaining or family tea time.
The spout has large drain holes to help keep it clear of tea leaves, making it easier to pour. It is made of seamless, sturdy stoneware one-piece construction.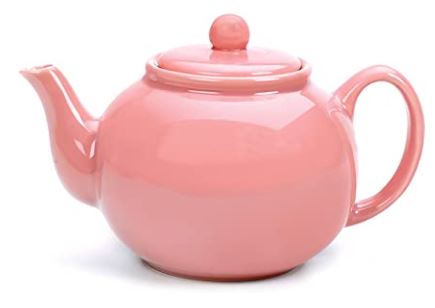 Features:
Microwave and dishwasher safe
Stoneware
Measures 9-1/2-inches by 6-inches by 6-inches
---
Vintage style, great size, the nice shade that goes with everything. The aqua cast iron teapot is crafted with a retro green leaf pattern on its surface, symbolizing natural simplicity and purity.
These Toptier retro-looking functional teapots are durable cast iron and sturdy than stoneware, porcelain, stainless, aluminum, and more.
Top-tier cast iron teapot, pack safely in a well-wrapped box. It is a nice gift for housewarming, wedding, or anniversary and the BEST GIFT for the tea lover.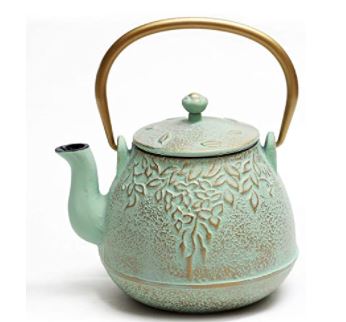 Features:
Cast Iron
Convenient to store
Clean it with water
Dry after each use to avoid rust
---
This teapot is completely handcrafted, made from heat-resistant borosilicate glass, specially designed with a nondripping spout and a perfect ergonomic handle for a sturdy grip.
It comes with a removable high-grade 18/10 stainless steel mesh infuser filter for loose teas or blooming teas; the lid fits the tea basket both when inserted or removed.
This beautiful teapot can be placed directly in the microwave oven or on either gas or electric stovetops; use a medium-level heat source to heat water to brewing; your delicious teas can also be reheated either by microwave.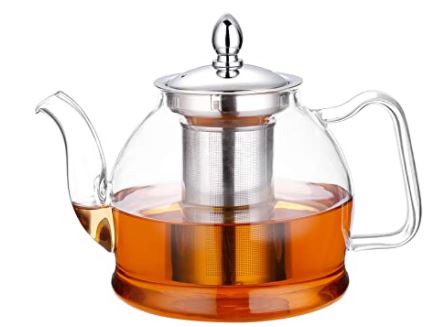 Features:
Borosilicate glass
Dishwasher top rack safe
1 Liter
---
This teapot's body is 1mm, solid copper. Lined with nonreactive food-safe tin. Not lacquered/varnished. So it will develop a natural patina on the body, as real copper should.
It is made with famous Turkish Copper in the Gaziantep City of Turkey by craftsmen with a century of experience in the copper industry.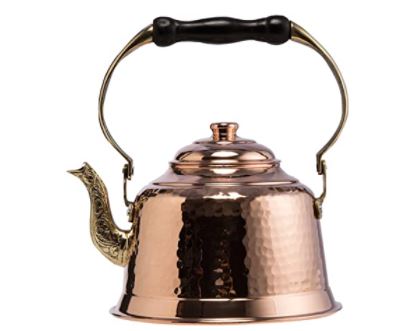 Features:
100% copper
1.6 Quarts
Comfortable handle
---
Featuring the latest Thermal Protection technology, the handle cools down in a few seconds after turning the stove top off. You don't need to touch any hot metal part, thanks to the ergonomic push-button pouring mechanism.
This surgical stainless steel kettle is built for quick heating and compatibility with all stovetops. It also comes with two premium tea infusers enough for brewing tea for you and your guests.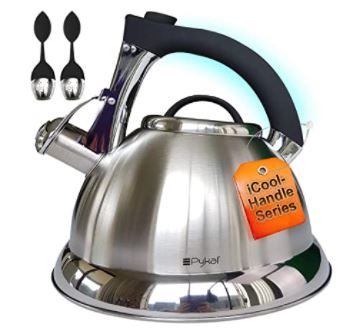 Features:
Stainless Steel
Satin Polish combined with Mirror Finish
1360 Grams
---
This tea kettle has a great memory! It will remember and hold the previous preset temperature that you last selected.
This tea kettle's airtight spill-free lid ensures no messes happen and that your hands are kept safe from scalding hot water.
Beautiful, 100% food-grade stainless steel with no chemical linings for the purity of flavor.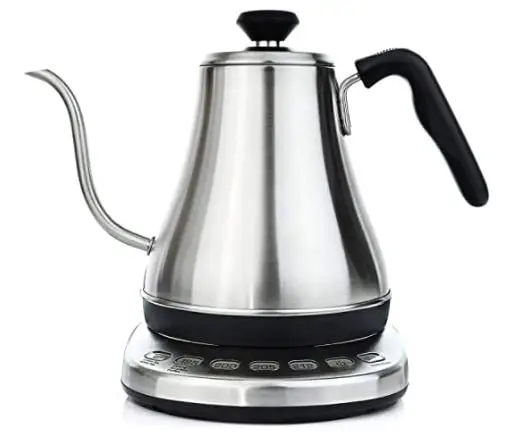 Features:
BPA-free plastic handle
1000 watt, 120-volt electric base
Stainless Steel
---
Common Questions Regarding Types of Teapots
What is the best type of teapots to use?
Porcelain is considered the best teapot to use. This is the most prized material for teapots. As porcelain is nonporous, holds the temperature very well, and is easy to clean. Therefore, porcelain is recommended for white and green teas. It can also be used for any tea.
What is a Japanese teapot called?
A kyūsu is a traditional Japanese teapot mainly used for brewing green tea. The common misconception is that a kyūsu always has a side handle. However, the word "kyūsu" merely means "teapot," even though in common usage, kyūsu usually refers to a teapot with a side handle.
What are the 4 main parts of a teapot?
Made up of multiple components such as; spout, handle, lid, knob, body, etc. Teapots pose an exciting but complicated challenge: making all of these parts work together as a cohesive whole. Here are the four main elements of any teapot:
Handle. Probably the most important part of the teapot as without it holding the teapot would be challenging. A well-constructed handle will enable you to operate the teapot easily. With antique teapots, this is the area that will potentially show the most wear.
Thumbpiece. Located at the top of/on the handle of a teapot, providing support for your thumb, promoting a sturdy grip, and providing more control when pouring.
Sockets. The sockets connect the handle to the teapot. Frequently, two tiny pins, running through each socket, hold the handle in place.
Foot. Essential for steadying the teapot. Teapot feet can come in various styles and shapes.
What are the teapot feet styles?
When it comes to silver teapots feet styles, you may find:
Circular foot: A continuous foot going around the base of the teapot in a circular shape
Bracket style feet: Single feet interconnected via an integrated cross piece
Ball style feet: Sphere shaped feet
Bun style feet: Oblate sphere-shaped feet
Hoof style feet: Like animals' hooves
What are teapots good for?
Among the advantages of teapots, we find that teapots are specifically designed to offer a high amount of heat retention, making them ideal for black tea brewing. Although these teapots keep tea hot longer, they can be easily handled without the risk of burning yourself and usually feature a cool handle to the touch.
What elements are important when choosing a teapot?
Size
the size of a teapot is deemed the most important of its elements. Ask yourself if you want a teapot that can provide tea for multiple household members and guests or if you need one that brews enough for yourself.
Teapots with large capacities tend to be more expensive, but easier to make more at once.
Brewing Method
Some pots can serve as both a kettle and pot, while others are designed to hold the hot water and brew the tea.
Some teapots come with an infuser, while others require that you provide your own. Infusers vary in size, and some loose-leaf teas work better than others, depending on which type you are using.
Design
Teapots are the perfect combination of aesthetics and functionality. Throughout history, teapots have been considered pleasing to the eye and do what they are meant to do.
Nowadays, preferences and styles have changed to accommodate a variety of looks for teapots. Some pots have a more traditional look, while others have a modern flair.