Which is the World's Most Expensive Ramen? Are you a ramen lover? Who isn't! Who knew a bowl of noodles could give life to pretty much anyone who tries it. But how much would you be willing to pay for your favorite noodles? Did you know the world's most expensive ramen costs a few hundred; learn about this insane bowl of noodles and heavenly broth, plus five more ramen recipes you should definitely try out sometime.
As you probably know, Ramen is a popular dish in Japanese cuisine, one that's been adopted pretty much everywhere and that is equally loved by all cultures. And like anything, there are the cheap and not-so-good or even healthy versions of ramen, and then there's the real thing.
If you really want to treat yourself to the ramen experience, then it's time to put the packaged ramen down, and get yourself some real and fresh ingredients and get cooking. Below you'll find several delicious ramen options that are worth every penny you'll spend so you can get some much-needed inspiration.
Brief History of Ramen
Ramen is adopted from Chinese wheat noodles. One theory sustains that ramen was first discovered in Japan during the 1660s by the Chinese neo-Confucian scholar Zhu Shunsui. A second theory claims that Chinese immigrants in the late 19th or early 20th century introduced ramen.
As stated by the Yokohama Ramen Museum, ramen was invented in China and adopted by Japan in 1859. The original version of ramen had wheat noodles in broth and topped with Chinese-style roast pork.
What is the World's Most Expensive Ramen?
Rags to Riches ramen costs a whopping $400 per bowl, and it can be found at Sydney's, Gumshara. The ramen is part of the Aussie launch for the video game Yakuza: Like A Dragon.
Who came up with the Most Expensive Ramen?
Rags to Riches is created by Mori Higashida, the owner and head chef at Gumshara, to reflect the sheer madness and over-the-top nature of the Yakuza series.
What are the ingredients in the Most Expensive Ramen Rags to Riches?
It is made from 15kg of lobster and pork bones, topped with a full tempura lobster, traditional ramen garnishes, golden noodles, and a golden dragon's head for decoration.
Ingredients in the Rags to Riches ramen are:
5kg high-end lobster heads
10kg quality pork bone
1x full lobster: Tempura lobster tail and golden head fashioned like a dragon head for garnish
Noodles
Traditional ramen garnishes of soft-boiled seasoned egg, bamboo shoots, spring onions
Golden nori
5 Ramen Other Options Worth Your Money
Vegan Ramen with Roasted Red Miso Veggies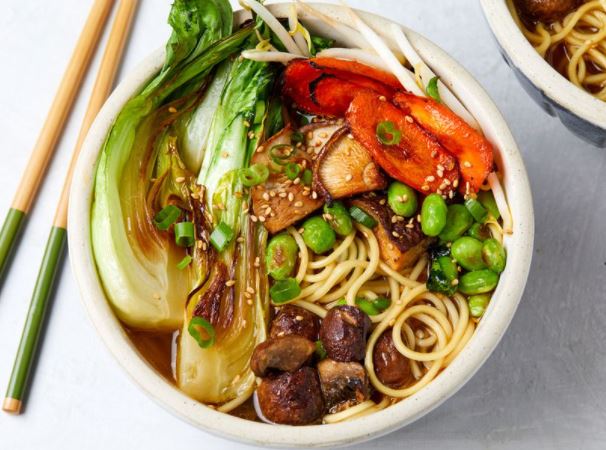 Broth ingredients:
2 tbsp. vegetable oil
1 medium yellow onion, chopped
1 large carrot, peeled and sliced
10 cloves garlic, peeled, smashed
1 4″ piece ginger, cut into 1/4″ slices
Kosher salt
5 oz. fresh shiitake mushrooms (stems removed, caps reserved for later)
2 3″ segments kombu (the more dusty, white powder, the better!)
1/2 oz. dried shiitake mushrooms
2 heads baby bok-choy, quartered
6 green onions, chopped
4 cups vegetable stock
Roasted miso veggies ingredients:
6 oz. baby Portobello mushrooms, quartered, stems removed and discarded
5 oz. shiitake mushrooms
1 large carrot, thinly sliced
2 heads baby bok-choy, quartered
1/2 c. shelled edamame
1 tbsp. red miso paste
2 cloves garlic, grated
1 tsp. ginger, grated
2 green onions, whited minced, greens thinly sliced and reserved
1 tbsp. vegetable oil
Kosher salt
To finish:
1/4 c. soy sauce
1/4 c. mirin
1 tbsp. toasted sesame seeds
1 (10 ounces) pack dry ramen wheat noodles
Sesame oil
Sesame seeds
Green onions
Broth instructions:
In a large Dutch oven, heat canola oil over medium heat.
Add onion, carrot, ginger, garlic, and a heavy pinch of salt.
Cook for 7 minutes, stirring occasionally, or until veggies begin to take on some color.
Add shiitake stems, kombu, 1/2 ounce dried shiitake mushrooms, bok choy, and green onions.
Add vegetable stock and 4 cups of water.
Bring to a boil over high heat, then reduce to a simmer.
Cover and cook for 25 minutes while your roast your vegetables.
Strain broth through a fine-mesh strainer or chinois into a large clean bowl.
With the back of a wooden spoon, press the liquid out of the stock veggies, mashing them with the spoon. Scrap those from the strainer into the bowl and discard the rest of the veggies.
Return broth to the Dutch oven and season to taste with salt.
Roasted miso veggies
Preheat the oven to 425°.
Combine miso paste, oil, green onion, ginger, and grated garlic in a medium bowl.
Toss carrots and mushrooms separately in miso mixture, then transfer to a foil-lined rimmed baking sheet, keeping each vegetable separate.
Leave enough room to add bok choy and edamame.
Roast for 5 minutes.
Toss bok choy and edamame with oil in a medium bowl and season with salt.
Add bok choy and edamame to a baking sheet and cook until all veggies are tender.
Assemble:
In a large pot of salted boiling water, cook ramen noodles according to package instructions, then drain.
In a small bowl, whisk together mirin and soy sauce.
Add 1½ cups hot broth to each bowl.
Divide noodles between each bowl, then top each with carrots, mushrooms, and bok choy.
Drizzle each bowl with soy-mirin, then garnish with roasted edamame, green onions, sesame oil, and sesame seeds before serving.
---
Malaysian Ramen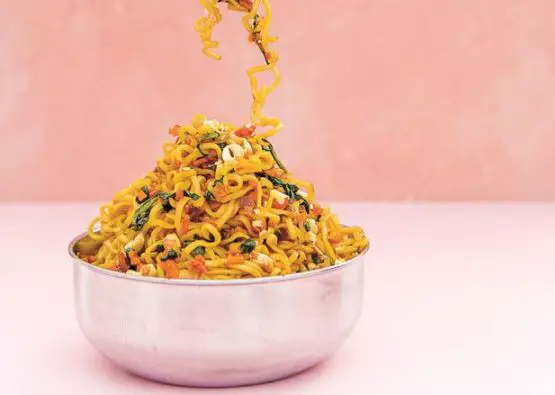 Ingredients:
2 3-ounce packages of chicken-flavored ramen
3 tbsp. vegetable oil
2 garlic cloves, minced
1 tsp. minced fresh ginger
1/2 medium red onion, finely diced
1 large carrot, finely diced
2 tbsp. low-sodium soy sauce
1 tsp. distilled white vinegar
1 tsp. Sriracha or your favorite Asian chile sauce
3 c. roughly chopped baby spinach (about ½ bunch)
Fresh lime juice
1 tbsp. roasted unsalted peanuts, crushed
Instructions:
Break each block of noodles in half
In a large pan over medium heat, warm the oil.
Once the oil begins to shimmer, add the garlic, ginger, onion, and carrot.
Cook until the veggies start to soften and the garlic and ginger start to brown, 4 to 5 minutes, then stir in the soy sauce, vinegar, Sriracha, and about ½ teaspoon of the ramen seasoning.
Add the spinach, noodles, and ½ cup water, then toss the noodle cakes and veggies in the sauce.
Continue tossing them vigorously in the sauce.
Reduce the heat to low, cover, and cook until the water has been absorbed and the noodles are leathery and dry.
Add a generous squeeze of lime juice.
Sprinkle the peanuts on top.
---
Ramen Chicken Noodle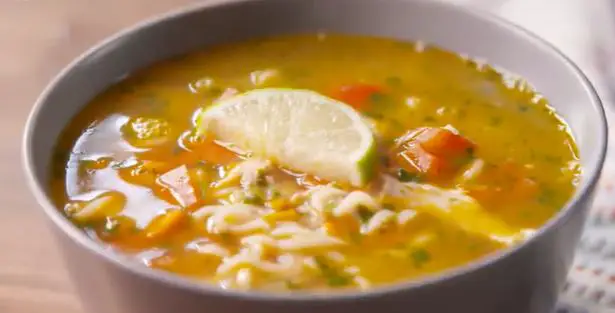 Ingredients:
1tbsp. extra-virgin olive oil
2 bell peppers, chopped
2 large carrots, peeled and chopped
1/2 c. Thinly sliced green onions
3 cloves garlic, minced
kosher salt
Freshly ground black pepper
4 c. low-sodium chicken broth
2 packages ramen noodles (seasoning packets discarded)
2 c. shredded rotisserie chicken
1/4 c. freshly chopped cilantro
Juice of 1 lime, plus lime wedges for serving
Instructions:
In a large soup pot, heat oil.
Add bell peppers, carrots, green onions, and garlic and season with salt and pepper. Cook until soft.
Add chicken broth and bring to a simmer.
Add ramen noodles and cook until tender, then stir in chicken, cilantro, and lime juice.
Simmer until heated through.
Serve with lime.
---
Spicy Coconut Curry Ramen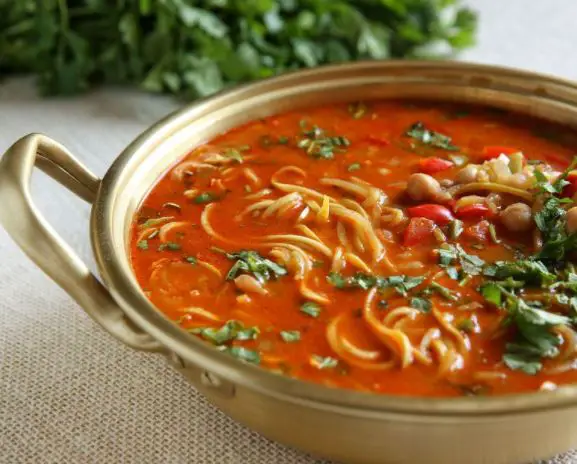 Ingredients:
2 tbsp. extra-virgin olive oil
2 cloves garlic, minced
1 small yellow onion, chopped
Kosher salt
Freshly ground black pepper
15 oz. can garbanzo beans, rinsed and drained
1 medium red bell pepper, cut into 1/2″ pieces
1 package ramen noodles (seasoning packet reserved for another use)
32 oz. low-sodium vegetable broth
13 oz. can full-fat coconut milk, shaken well
2 tbsp. red curry paste
1/2 tsp. cayenne pepper (optional)
1/2 c. chopped fresh cilantro
Instructions:
Combine olive oil, garlic, and onion; season with salt and pepper. Cook for 2 to 3 minutes.
Add garbanzo beans and bell pepper. Cook 2 to 3 minutes.
Add broth, coconut milk, and curry paste and stir until combined.
Bring to boil and simmer for 5 minutes.
Add ramen noodles and cook until al dente.
Garnish with chopped cilantro and serve immediately.
---
Zoodle Ramen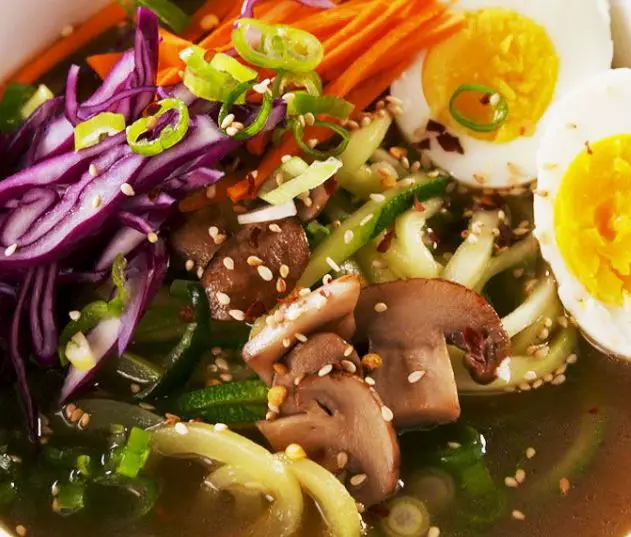 Ingredients:
4 large eggs
1 tbsp. extra-virgin olive oil
8 oz. cremini mushrooms, sliced
4 cloves garlic, minced
1 tsp. fresh ginger, minced
8 c. low-sodium bone broth
1 tbsp. low-sodium soy sauce
4 medium zucchinis, spiralized or cut into noodles (about 2 lb.)
1 tbsp. sesame oil
1/2 c. chopped red cabbage
1 c. shredded carrots
2 green onions, thinly sliced
2 tbsp. toasted sesame seeds
Pinch crushed red pepper flakes
Instructions:
Place eggs in a small pot and cover with an inch of cold water.
Place pot on the stove and bring to a boil.
Instantly turn off the heat and cover the pot. Let sit for 11 minutes.
Remove eggs from pot and dunk into ice water.
Peel eggs, then halve lengthwise.
Using a large skillet over medium heat, heat olive oil.
Add mushrooms and cook until soft, 5 minutes.
Add garlic and ginger and cook, 1 minute.
Add in bone broth, soy sauce, and bring to a boil.
Reduce heat and simmer for 5 minutes.
Add zucchini noodles and cook until tender, 2 minutes more.
Stir in sesame oil.
Top each with scallions, sesame seeds, and red pepper flakes.
---
Common Questions Regarding the Most Expensive Ramen
What is in ramen?
Ramen is a Japanese noodle soup, literally known as pulled noodles. The world-popular dish is conformed by Chinese wheat noodles served in a meat or seldom fish-based broth, flavored with soy sauce or miso. Typically, toppings include nori(dried seaweed), sliced pork, scallions, and menma.
Is ramen famous in Japan?
Ramen is Japan's national comfort food; they have their own variation of ramen that includes the miso ramen of Hokkaido and the tonkatsu (pork bone broth) ramen of Kyushu. There is one ramen, namely Mazemen, that is not served in a soup. Instead, it is served with a sauce like noodles.
Why is ramen expensive?
Most Expensive Ramen is that although we are talking about noodles, ramen costs more than any other because of the meats content that is usually imported from Japan. Preparing the soup's stock is expensive because it requires ingredients like pork bones, roast pork, soy sauce, fat, miso paste, and more.
Most Expensive Ramen Video
In addition to the World's Most Expensive Ramen, would you also be interested in learning about the most expensive Milkshake?