Splatter screens are not exactly the kitchen tool you think you need until you get one. It makes the job of cooking and ultimately cleaning up afterward so much easier. Though a splatter screen is excellent for any home cook, it is particularly helpful for people like me who are prone to making a mess while cooking.
Having a splatter screen to prevent any spills, oil, or grease from landing on your stovetop, countertop, or backsplash can save you the hassle of wiping it away afterward, which, we all know, can be significant pain.
0If you have been convinced to get a splatter screen for yourself, keep reading. Before we look at how to choose a splatter screen, let's go over the basics of what it is and how to use one. 
Types of Kitchen Splatter Screens
Though all the splatter screens are designed to prevent food spills, they may come in various sizes, materials, and shapes. Here are some of the main types of splatter screens you can find in the market:
Stainless Steel Splatter Screen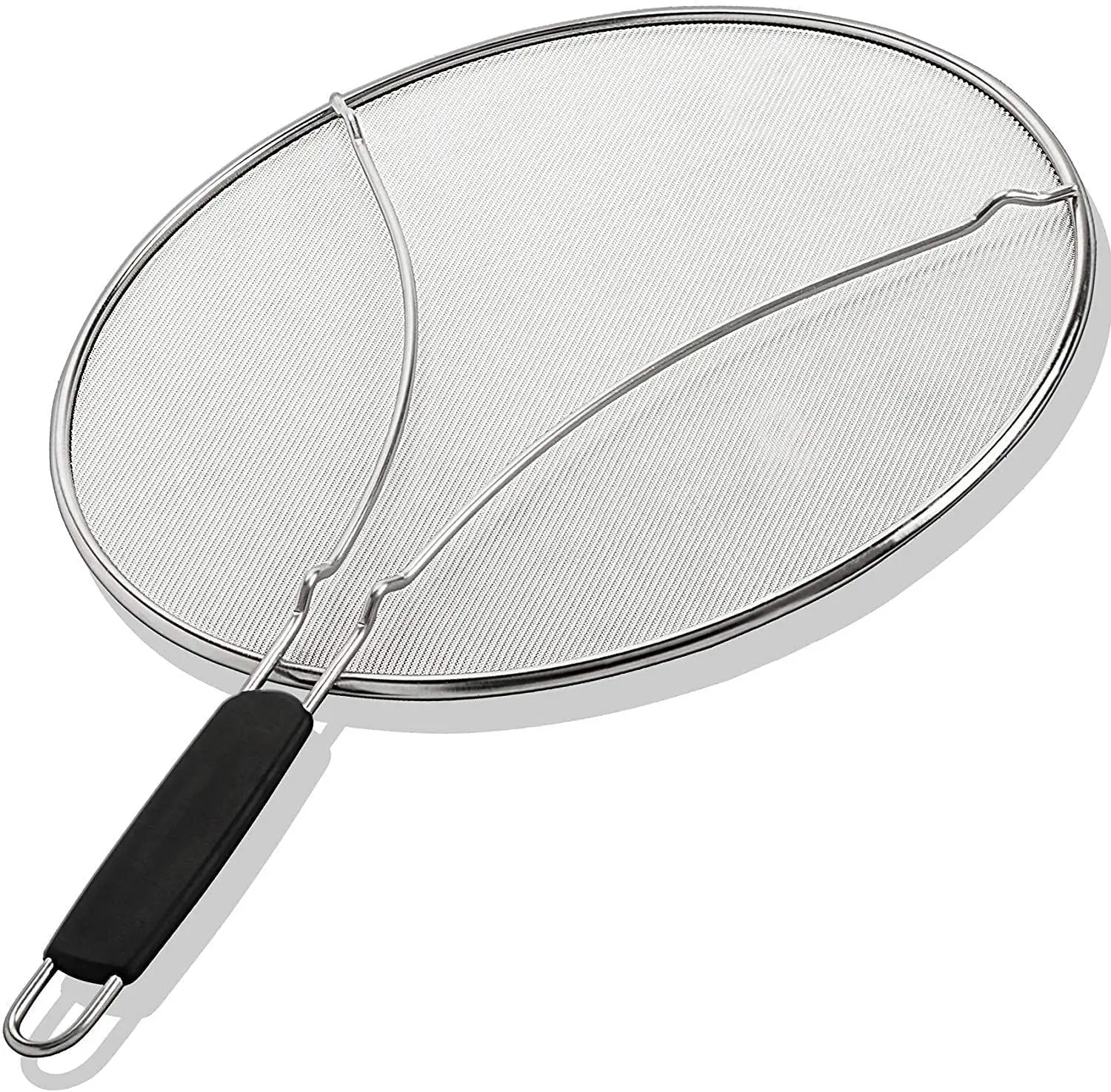 This type of kitchen splatter screen has a wire mesh in between and a stainless steel frame. It lets the steam escape while simultaneously preventing any spills. These screens don't do the best job since you might notice some grease spilling. Moreover, you can also see the cooking process through the wire mesh, which you might not be able to do with lids because of the steam.
However, they do help to reduce your cleaning time and make cooking easier. When cleaning stainless steel splatter screens, you need to hand wash with soap and a sponge. You might need to use extra soap to clean out the greasy bits from the frame.
---
Foldable Splatter Screens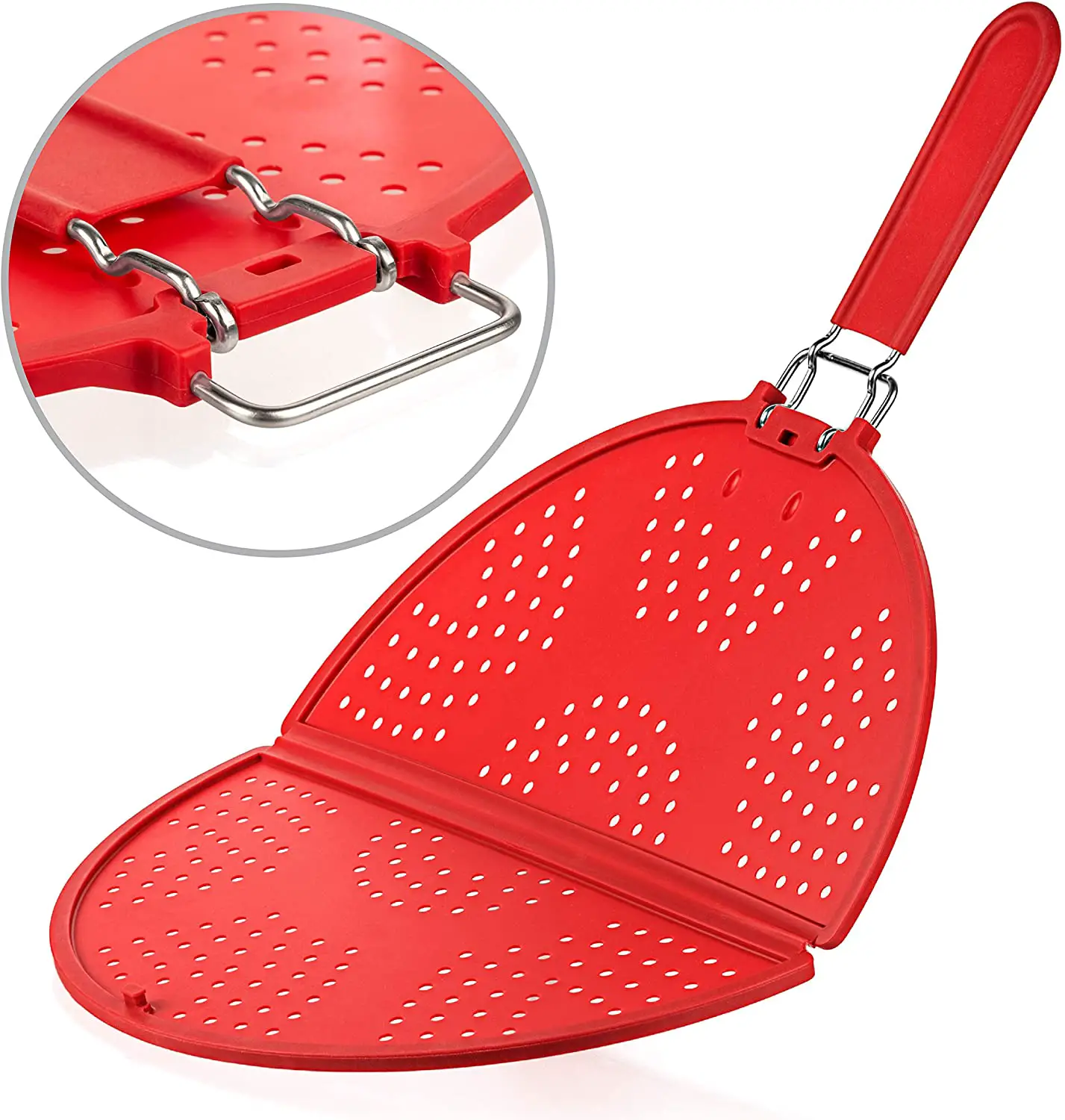 This is one of the most convenient and portable splatter screens you can get your hands on. They can be folded when not in use, hence taking up little space. These screens have a wire mesh in the middle, and their frame can be made of either aluminum or stainless steel. Another thing that makes foldable splatter screens an excellent choice is the fact that their frames are nonstick. This means that the grease will likely not stick to the surface, and the screens will also be easier to clean.
However, foldable splatter screens often have a long handle poking out, meaning they may not fit entirely on the pot or pan. Hence, when buying, make sure the size is big enough to set on top of your pans and stoves properly.
---
Rectangular Splatter Screens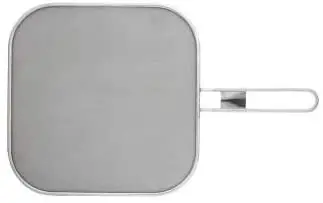 You can also find square or rectangular-shaped splatter screens to fit on top of your grills or skillets perfectly. These are designed explicitly for rectangular-shaped pans. This means that they cannot be used on other types of typical pans and pots. This limits their usage. However, you should get them if you cook or fry more with rectangular-shaped pots and pans.
The rectangular splatter screens can be made of stainless steel or aluminum, but they tend to be easy to clean. Most are also dishwasher safe. Moreover, they can also come without a handle, which can make using them a bit of a hassle.
---
Specific Splatter Screens for Frying Pans
These are designed to be set on the rim of your pans when you are sautéing or deep frying food in them. They let all the steam escape thanks to their mesh style while preventing a build-up of grease. It also is quite effective in preventing any oil spills whatsoever while frying. 
---
Universal or Cooking Splatter Screens
If you are looking for a versatile splatter screen, then this is the one. These cooking splatter screens have a stainless steel outer with a tight mesh in the middle. It tends to have more metal than mesh, which makes it highly durable. It also makes it more effective in preventing oil or grease spillages. Unlike other splatter screens, the universal or cooking splatter screens do not fall or topple over easily.
---
Silicone Splatter Screen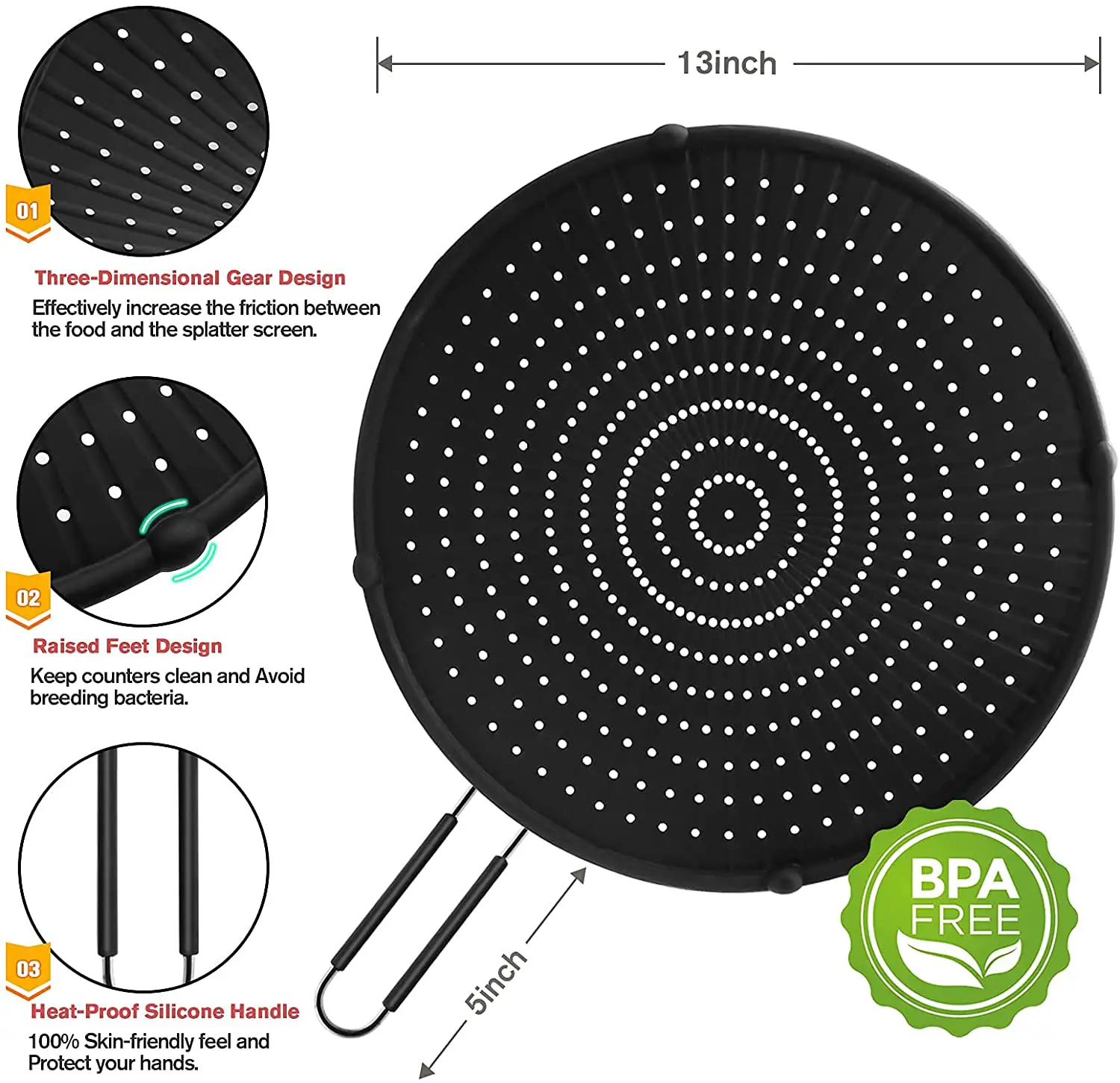 This type of splatter screen can easily withstand high temperatures. They also come with plastic groves, making them easy to hold and handle even when they are hot. This is a far more superior choice to splatter screens with the typical mesh because they are more effective at preventing grease spills and letting the steam out.
However, condensation does slightly build up in these screens. You can easily clean them up afterward, though. The best thing about these splatter screens is that they can be used at high temperatures. Be sure to keep them away from open flame, though.  
---
Common Questions Regarding Splatter Screen Options
What is a Splatter Screen?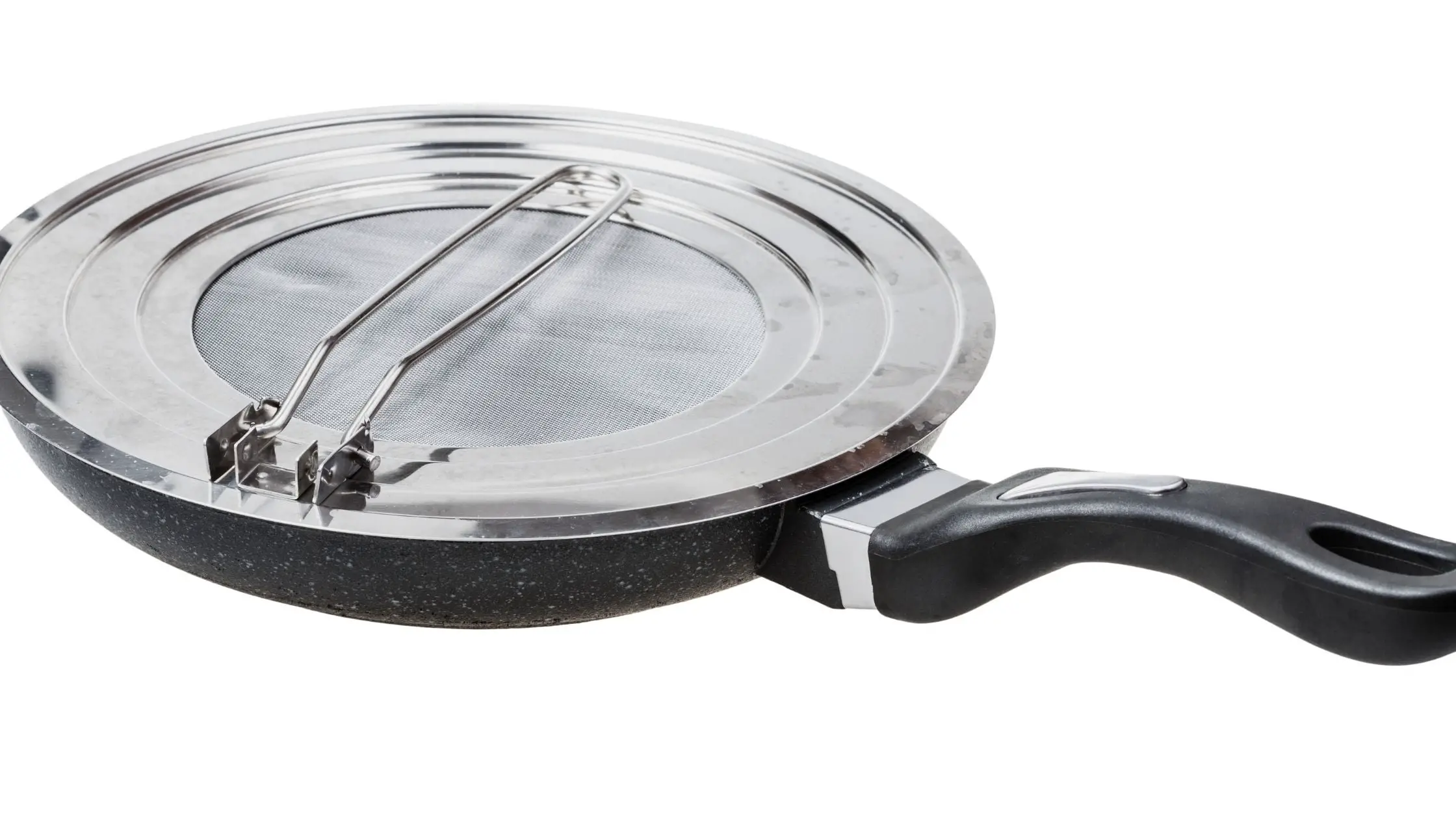 A splatter screen is exactly what the name sounds like; it is essentially a screen or plate used to prevent spills or splatters. The circle shape of the screen is made with a metal wire and covered with a mesh material. They may also come with handles or clips on the side. You place the tool on the top of pots and pans to prevent any oil, grease, or specks of food from landing anywhere.
A splatter screen, which is also known as a splatter guard, is a far better choice than covering pots and pans with lids because that produces a steaming effect. A splatter screen lets the steam escape. As a result, it does not alter your cooking method.
How to Use a Splatter Screen
A splatter screen is a simple yet incredible tool to keep in your kitchen. It is designed to prevent any grease and oil spills. However, it does more than just that. Here are all of the ways a splatter screen is a useful addition to your kitchen tools:
It prevents any hot oil or grease from landing on you, your hands, and your clothes

It also helps to keep your stovetop, countertop, and backsplash clean

It drains grease from a pan when needed

They are perfect to use when cooking pork chops, or for frying eggs and bacon, or simmering sauces and curries

They let the steam out so you can have crunchy fried food that is not soggy from the steam
How to Choose a Splatter Screen
Now that you know what splatter screens are and what they can be used for, you might be tempted to add this tool to your kitchen. If so, here are some of the features of a splatter screen you should look out for when searching for the right one:
Material
Splatter screens come in a variety of materials that impact their performance. A typical one would include a stainless steel frame with a mesh in the middle. This is because it is highly durable, stain-resistant, and scratch-proof. However, you can find splatter screens that are made of aluminum and silicone as well.
If you plan to cook at high temperatures, you should consider getting a screen made of silicone. They can withstand high heat at a better rate compared to stainless steel. And despite the high heat, you can easily handle the silicone screens because they do not absorb any heat, so they don't get hot.
Size
This is the most significant factor to consider when you are choosing a splash guard. You have to make sure that the one you choose fits with your overall pot or pan. If it's too small, you will still have grease or oil spilling. If it is too big, then the chances of the pan and screen toppling over are high, which can be dangerous.
To prevent this from happening, you should measure the diameter of your pan and then get the relevant sized splatter screen. If you have multiple pans and pots of varying sizes, you can either get a set of splatter screens or one with ridges that you can adjust accordingly.
Durability
Another important factor to look out for when looking for splatter screens is checking how durable they are. You need one that will last a long time and is functional at various temperatures. The splatter screen you get should not warp or break after usage but be strong and long-lasting.
A durable option for a splatter screen is one made of stainless steel. The material does not scratch or rust as easily.
Design
The design of the overall splatter screen is an important consideration to make. The first design feature to consider is the top of the splatter screen, which acts as a blockade to prevent any spilling or pops of oil or grease from landing outside. Most of the splatter guards can also be used for other purposes depending on the top of the screens; for example, they can be used for straining as well.
Another design feature of the spatter guard you can opt for is the open-top design. It will sit inside the pan to cover the top and prevent spillage. This is an excellent choice because it easily lets steam and moisture out and makes cooking easier because you can easily add ingredients to the pan. However, ensure that it will not budge or topple over easily if you get a splatter screen with this design. 
Handles
You need a handle that stays cool when your splatter guard is used at high temperatures and is heating up. If you opt to get a steel handle, ensure it is long enough not to heat up too much and absorb the heat. Moreover, some splatter screens also come with handles that are located on their top, much like a lid. This enables easy handling of the screen. 
If space is a significant factor in your consideration of splatter screens, perhaps opt for a screen with a foldable handle. This will enhance its portability and make it easier to store. 
Conclusion on Platter Screens
Splatter screens have really changed my cooking and frying game. If you want to make your life easier, then you should definitely consider getting one of them. The right splatter screen will be easy to clean, rust-resistant, durable, and, most importantly, help prevent any oil spills. 
When searching for a splatter screen, make sure that you keep the above-mentioned features in mind. Stainless steel splatter screens, such as the BergKoch Grease Splatter Screens, are popular.  However, silicone steel splatters, for example, the Frywall Splatter Guard, are also easy to use and perfect for high temperatures.